Yorkshire Regiment War Graves, -
Aberdeen (Trinity) Cemetery
---
Close Window to return to main page
---
Aberdeen (Trinity) Cemetery is at the end of Errol Street, between King Street (the road to Old Aberdeen) and the sea, within the city.
A Screen Wall is erected carrrying bronze panels on which particulars of all First World War Graves in the cemetery are inscribed.
There are around 170 burials of 1914-1918, (including 1 unidentified sailor of the Royal Navy in F.3. 554(CMP)), and around 30 burials of 1939-1945. In addition there is 1 Non World War burial.
One soldier of the Yorkshire Regiment is buried in this cemetery.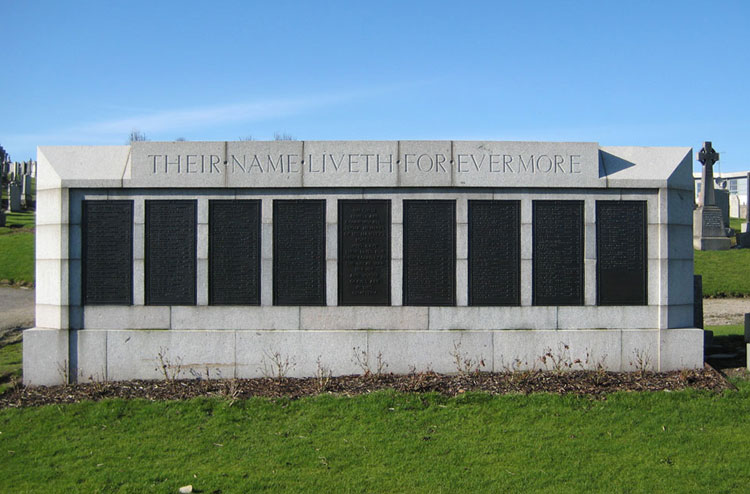 The Screen Wall in Aberdeen (Trinity) Cemetery on which the names of those buried in the cemetery are recorded,
together with plot numbers.
Photo courtesy of Colin Milne
---
(At present we do not have a photo of Private Baigrie's headstone)
Private James M Baigrie. 36445. 12th Battalion the Yorkshire Regiment transferred. to (384718) 94th Coy. Labour Corps. Son of William & Mary Baigrie. Husband of Christina Baigrie, of 6. John St., Aberdeen. Died 26 January 1919. Aged 44.
Born Kirriemuir, Kincardineshire.
(Additional information from Pension & Service records;- Enlisted 29 October 1915. Discharged 24 December 1918 due to valvular heart disease.)
---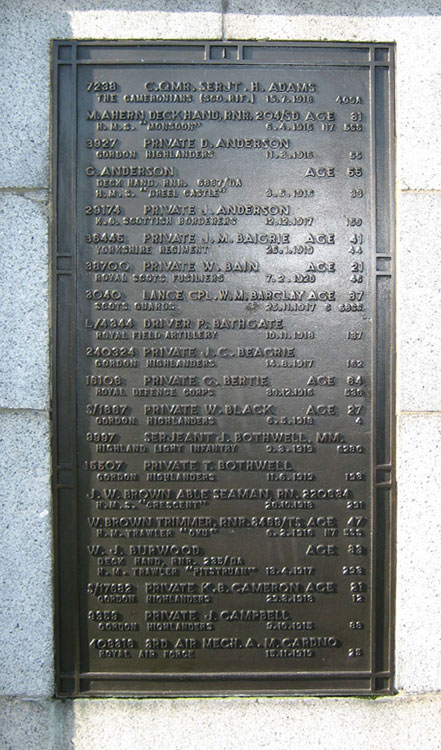 The Plaque on the Screen Wall bearing Private Baigrie's Name
Select the above image for a larger one, which opens in a new window.
Photo courtesy of Colin Milne