Yorkshire Regiment War Graves, -
Bradford (Bowling) Cemetery
---
Close Window to return to main page
---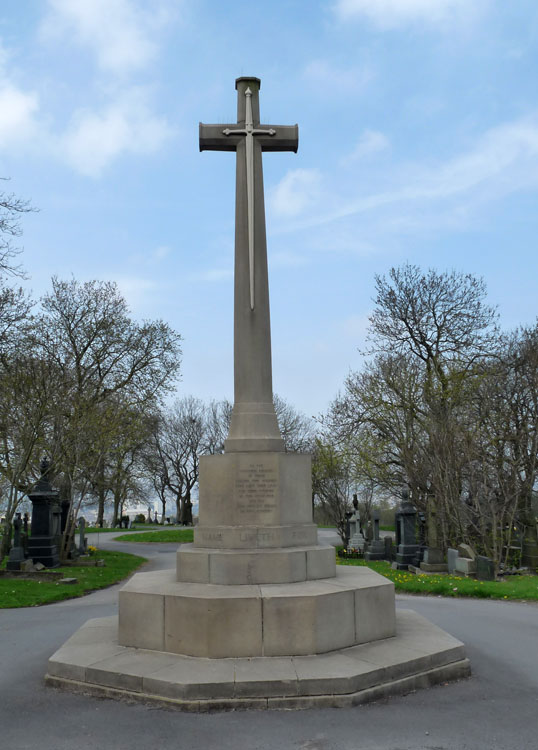 The Cross of Sacrifice - Bradford (Bowling) Cemetery
Photo © Mike Berrell (<mike_berrell@ntlworld.com>)
Military hospitals were opened in Bradford in both wars and many of the 153 scattered First World War burials in Bradford (Bowling) Cemetery were from the 1,200 bed Bradford War Hospital. The cemetery also contains 106 Second World War burials, mostly scattered, although 23 are grouped together in Section P. A Cross of Sacrifice stands at the junction of two main roads in the cemetery.
Four soldiers who served with the Yorkshire Regiment are buried in this cemetery.
We are very grateful to Mike Berrell (<mike_berrell@ntlworld.com>) for his photographs of the cemetery and of the headstones.
---
No photo available

Private Thomas Chapman. 266550.
5th Battalion the Yorkshire Regiment. Died at home 11 February 1918. Aged 43.

(Additional information : Enlisted 7 February 1916. Discharged 7 August 1917. Didn't serve abroad.)

---
Select above image for a larger version which opens in a new window.

Private John Moore. 9291.
2nd Battalion the Yorkshire Regiment. Died at home 13 February 1915.
Born Bradford, Enlisted Bradford.


---
Select above image for a larger version which opens in a new window.

Private Henry Price. L/12179.
17th Battalion Royal Sussex Regiment, formerly (6828) the Yorkshire Regiment. Son of James and Annie Price. Died at home 8 March 1919. Aged 37.



"REST IN PEACE"


---
No photo available

Private W Smith. 4782.
3rd/6th Battalion the Yorkshire Regiment. Died at home 25 April 1918.

(Not found in SDGW. Also, there was no 3rd/6th Battalion, - this may have been the 3rd/5th Battalion, though this was merged into the 4th Battalion in late 1916.)
Possible that he was a William Smith aged about 53. Will not have served abroad, so no Medal Roll Index card.)
---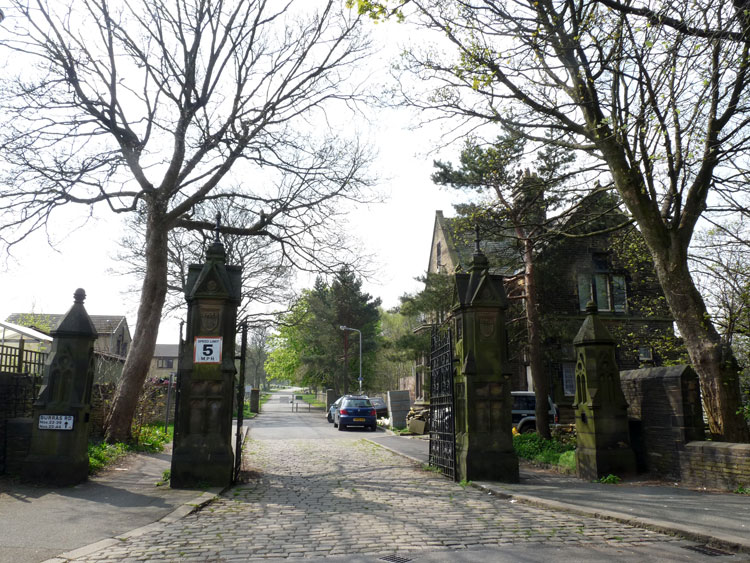 Bradford (Bowling) Cemetery Entrance
Photo © Mike Berrell (<mike_berrell@ntlworld.com>)