Yorkshire Regiment War Graves, -
Brookwood Military Cemetery
---
Close Window to return to main page
---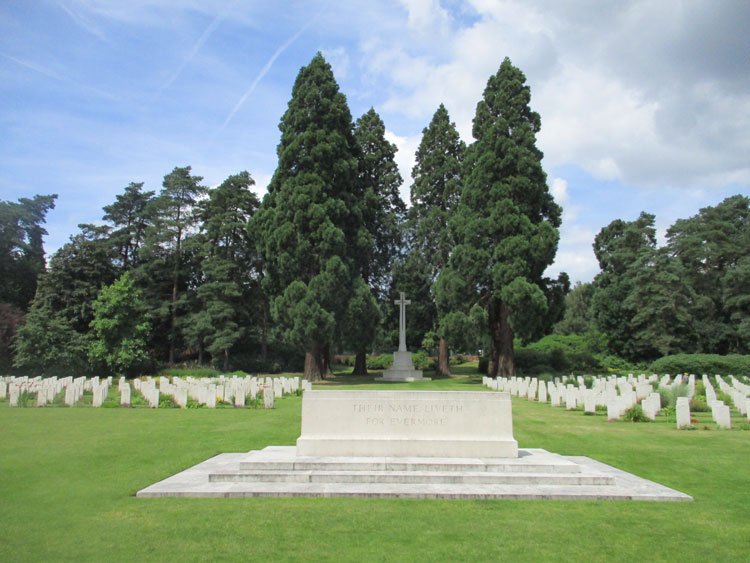 Brookwood Military Cemetery
Photo Chris Weekes (<weebex12@hotmail.com>)
Brookwood Military Cemetery is owned by the Commonwealth War Graves Commission and is the largest Commonwealth war cemetery in the United Kingdom, covering approximately 37 acres.
In 1917, an area of land in Brookwood Cemetery (The London Necropolis) was set aside for the burial of men and women of the forces of the Commonwealth and Americans, who had died, many of battle wounds, in the London district.
This site was further extended to accommodate the Commonwealth casualties of the Second World War. There is a large Royal Air Forces section in the south-east corner of the cemetery (which also contains the graves of Czech and American airmen who served with the Royal Air Force) and the Air Forces shelter building nearby houses the register of the names of those buried in the section. A plot in the west corner of the cemetery contains approximately 2,400 Canadian graves of the Second World War including those of 43 men who died of wounds following the Dieppe Raid in August 1942. The Canadian Records building, which was a gift of the Canadian government, houses a reception room for visitors and other offices.
In addition to the Commonwealth plots, the cemetery also contains French, Polish, Czech, Belgian and Italian sections, and a number of war graves of other nationalities all cared for by the Commission. The American Military Cemetery is the responsibility of the American Battle Monuments Commission.
Brookwood Military Cemetery now contains 1,601 Commonwealth burials of the First World War and 3,476 from the Second World War. Of the Second World War burials 5 are unidentified, 3 being members of the R.A.F. and 2 being members of the R.C.A.F.
The war graves of other nationalities in the Commission's care number 786 including 28 unidentified French.
Two soldiers who served with the Yorkshire Regiment are buried in this cemetery and photographs of their headstones are shown below.
There is also a screen wall where two Yorkshire Regiment soldiers are commemorated. However, one of these soldiers (W J Smith) is now commemorated on the Brookwood 1914 - 1918 Memorial, and the other (T C Hunter) was subsequently found to have been buried in Halesowen Cemetery where he is commemorated in a family grave.
We are very grateful to Chris Weekes (<weebex12@hotmail.com>) for providing photographs of the cemetery and of the two Yorkshire soldiers' headstones. Select one of the smaller images, below, for a larger sized image which opens in a new window.
---
Private Albert Henry Bowden. 42264.
2nd Battalion the Yorkshire Regiment, formerly 164308 R F A. Nephew of A. J. Bowden, of 21, Princes Rd., East Ellacombe, Torquay, Devon. Died at home 1 May 1918.
Born Torquay (Devon), Enlisted South Molton, Resided Molland

Private Maurice Howlett, 60297.
2nd Battalion the Yorkshire Regiment. of William and Mary Howlett, of Station Rd., Watton. Norfolk Died at home 7 July 1920. Aged 42.
Born Watton (Norfolk).
(Additional information : Died at the South African Military Hospital, Richmond, Surrey.)
---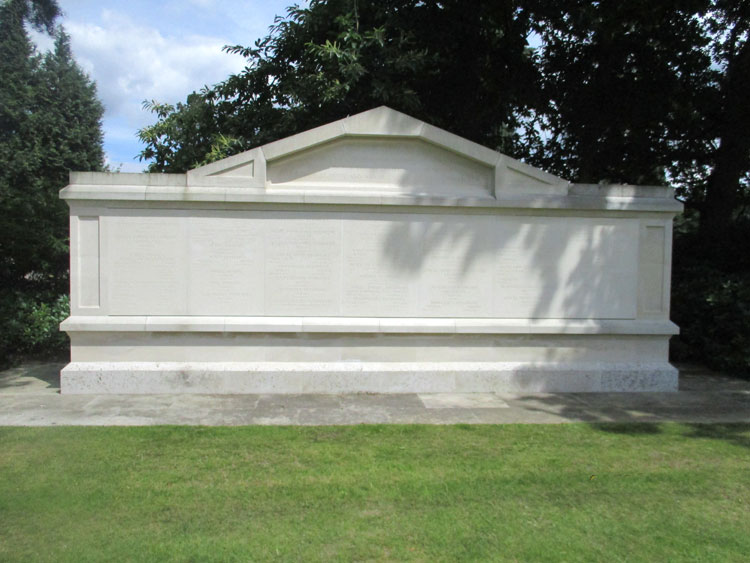 The Screen Wall in Brookwood Military Cemetery
Photo Chris Weekes (<weebex12@hotmail.com>)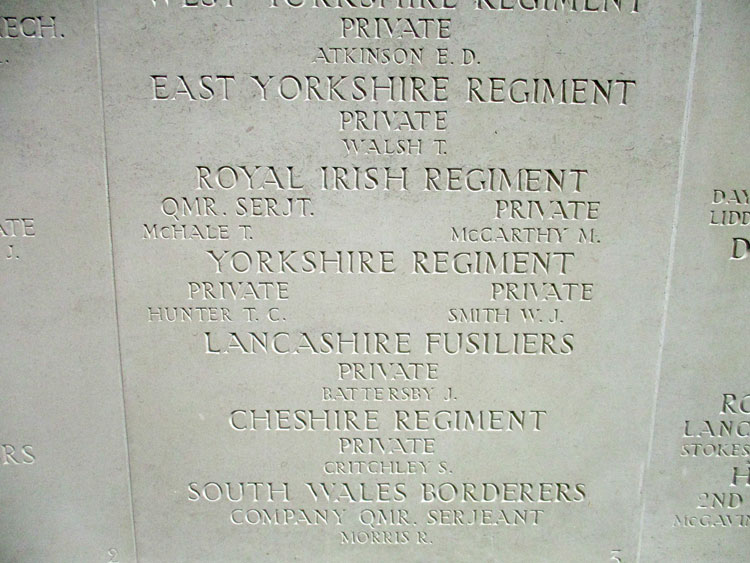 The Names of Privates T C Hunter and W J Smith on the Screen Wall in Brookwood Military Cemetery
Photo Chris Weekes (<weebex12@hotmail.com>)
---
---------------> Return to the Top of the Page