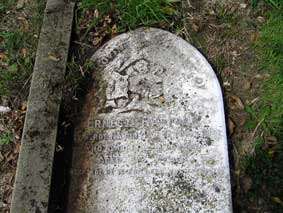 For a larger version of this image. select the thumbnail (above). Close the window that opens to return to this page.
The Radford Family headstone has, with age, become difficult to read. The inscription is as follows;-
IN LOVING MEMORY OF
ERNEST RADFORD
COY SERGT MAJOR , 4TH BTN YORKS REGT.
WHO DIED JULY 10, 1919,
AGED 32 YEARS.
"WEEP NOT, HE IS NOT DEAD BUT SLEEPETH"

ERECTED BY HIS LOVONG MOTHER
The above photograph has been provided by Richard Roberts (<richard@nosnailshere.co.uk>).

CSM Radford's Service Record exists and provides the following information;-
Ernest Radford, - a Striker at the Skinningrove Iron Co, Carlin How
Father John Radford, Mother Mary Ann Radford, Brother Henry Radford
Address : 25 Jackson Street, Brotton
Enlisted 4th Battalion Yorkshire Regiment 12 March 1909 aged 22 yrs 8 months. Regtl No 789.
First in France, 17 April 1915 (Medal Rolls Index Card)
Re-engaged for the duration of the war, 1 November 1915 "in the field" at Armentieres
Wounded 25 September 1916, - gunshot wound left cheek
October 1916 / February 1917 – extensive dental treatment including full upper artificial denture (obviously a result of his wound)
23 December 1918 transferred to 9th Battalion KOYLI. Regtl No 208182.
Shipped back to England from Dieppe, 12 February 1919
"Disembodied (Home)" 14 March 1919
Promoted Corporal 9 June 1913
Promoted Sergeant 25 April 1914
26 June 1915 Reduced to Corporal (?) in the field
26 January 1916 Promoted to Sergeant
31 March 1916 Appointed C S M.
No mention of death (e.g. how / why he died) but there WAS an application to the Commonwealth War Graves Commission, - though what for isn't clear.