Yorkshire Regiment War Graves, -
Wigston Cemetery, Leicestershire
---
Close Window to return to main page
---
Wigston Cemetery (Leicestershire) includes 33 burials from both World Wars who have Commonwealth War Graves Commission headstones , - 11 from the First World War and 22 from the Second World War.
However, there is one burial of a soldier who served with the Yorkshire Regiment where the soldier has no headstone (neither a family headstone nor a CWGC headstone).
This soldier was discharged due to ill health and died a year and a half after discharge. His ill health was attributed as having been aggravated by War Service, with the soldier himself stating that his ill health was a result of earlier Army service.
We are extremely grateful to Richard Roberts (<richard.nsw@googlemail.com>) who has carried out research into this soldier's military career, and has forwarded a photograph of the plot in Wigston Cemetery where both the soldier and his wife are buried.
---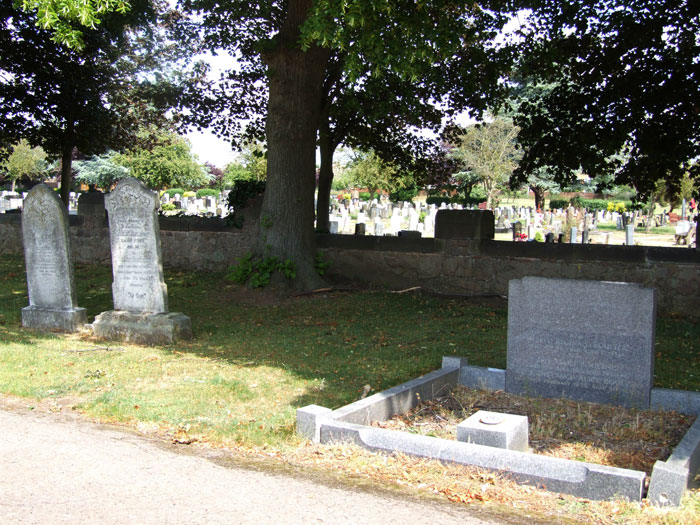 Wigston (Leics) Cemetery, - the plot in which L/Cpl Rudkin and his Wife, Laura, are buried
(the two burials are in the plot located between the two headstones on the left, and the headstone on the right).
Photo : Richard Roberts (<richard.nsw@googlemail.com>)
---
Lance Corporal John Samuel Rudkin. 31759. 3rd (Labour) Battalion the Yorkshire Regiment. Resided 80 Cherry Street, Wigston Magna, Leics. Husband of Laura. Bricklayer. Died 27 October 1918. Aged 35.

L/Cpl Rudkin had earlier served in the Coldstream Guards, but enlisted in the Leicestershire Regiment on 11 December 1915.
He was transferred to the 16th Battalion Yorkshire Regiment on 10 June 1916, promoted to Lance Corporal. He served in France with this battalion between 11 July and 18 October 1916. He was transferred to the 3rd (Labour) Battalion of the Yorkshire Regiment on 13 January 1917, and was discharged as being medically unfit (heart trouble) on 31 March 1917).
---
-----------------> Return to top of the page