Remembrance - The Yorkshire Regiment, First World War
Officers of the 4th Battalion, April 1915
Close window to return to main page
---
Officers of the 4th Battalion the Yorkshire Regiment, photographed in April 1915.
This photograph has been kindly contributed by David Blanchard of Skipton, N Yorks and Simon Barnard (<simon@toddhouseclinic.co.uk>) of York. The photo shows 29 Officers of the Battalion shortly before they left Newcastle for service overseas. The Battalion entrained at Newcastle on 17 April for Folkestone and embarked for Boulogne. One week later they were in action in the vicinity of Ypres.
Of the 29 Officers in the photograph, 15 were to loose their lives in the War, - 7 were killed in the battalion's first action.
All of the Officers in the photo below are identified, with the names beneath the photo. For a larger sized image, select the photo below for the larger image to open in a new window.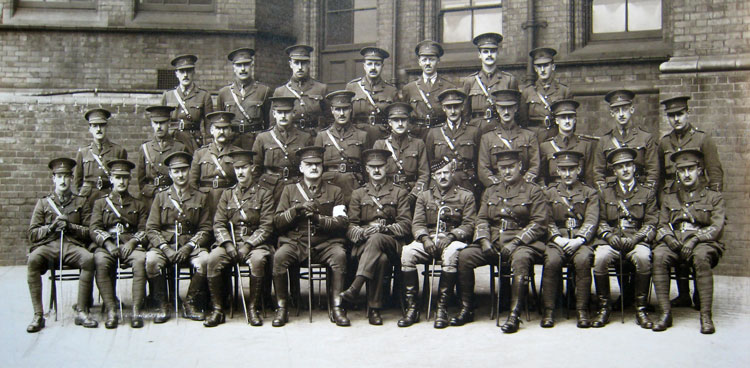 Top Row

2nd Lt H B Blackett,
Lt T Rowlandson (Kia 15-9-1916. Captain, MC)
2nd Lt H Hewitt
2nd Lt E Darwin (kia 24-4-1915)
2nd Lt J K Stead (kia 4-2-1917, Captain)
2nd Lt A Welsh (kia 19-2-1916)
2nd Lt G A Tugwell (kia 23-4-1917)
Second Row
Lt H W Cummins (kia 25-5-1915)
Lt T H Hutchinson
Lt & Quartermaster W H Colton
Lt E Williams
Capt N W Stead
2nd Lt H Fawcett
Lt C C Jervelund
Lt L I I'Anson (kia 25-4-1915)
2nd Lt P Orde-Powlett (kia 17-5-1915)
Lt A Beresford-Peirse
2nd Lt C Sproxton (kia 19-6-1917, Capt MC)

Sitting

Capt J Maughan (kia 17-2-1916)
Capt W W Constantine (Lieutenant-Colonel, MC)
Capt A Graham (kia 11-4-1918, Lieut-Colonel)
Major H C Mathews (kia 25-4-1915)
Major H de Legh [RAMC]
Lt Col M L Bell
Capt & Adjt G Eykyn [The Royal Scots] (kia 25-4-1915)
Major H Scott
Capt R A Constantine (later Major, transferred to RFC)
Capt G Bowes-Wilson (kia 7-6-1915)
Capt J Nancarrow (kia 25-4-1915)