North Yorkshire War Memorials, -
Skelton-on-Ure
---
Close Window to return to main page
---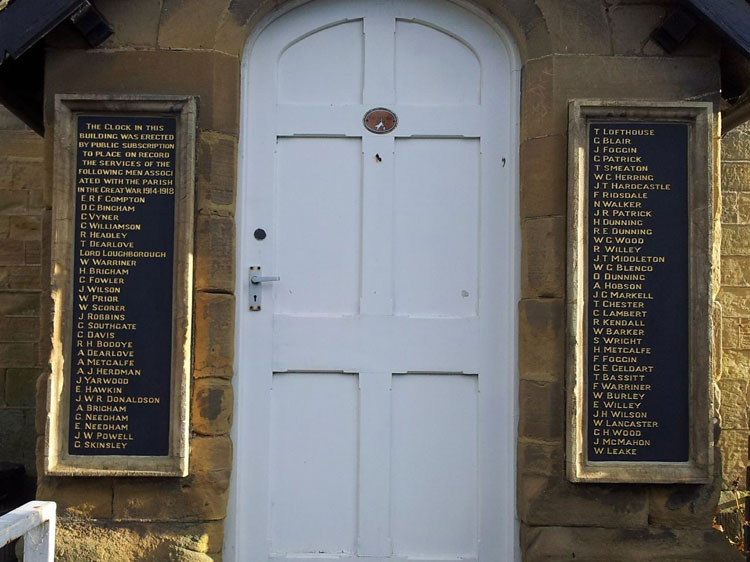 Skelton-on-Ure War Memorial.
(Photo : Andrew McNamara <amc750@hotmail.co.uk>)
The Skelton-on-Ure War Memorial consists of two black slate plaques, one on each side of the village hall porch. On it are inscribed the names of all those connected with the village who went to war in 1914 - 1918. Each plaque is surrounded by a Tadcaster stone surround. Of the 64 names on the memorial, 14 lost their lives in the war.
Although the memorial was erected in 1919, over the years the memorial had become badly eroded so that many of the names were unreadable. John Holt, who comes from Skelton-on-Ure, researched the names on the memorial. He also wrote two books on the history of Skelton-on-Ure, and the proceeds from the sale of these books went towards the restoration of the memorial.
On 23 October 2011 the restored memorial was re-dedicated. The occasion, and the story of the memorial, is described in "The Green Howard", Issue 12, p19.
Of the names on the memorial, one is for a soldier of the Yorkshire Regiment who lost his life in the war. Two other names are "possibles" (A Hobson and S Wright), but without confirmation are not being included on this page.
The names that appear on the Memorial are shown on the two photographs below.
---
Private George Blenco. 34124. 5th Battalion the Yorkshire Regiment, formerly 28930 Lincs Regt. Killed 19 September 1918.
Born Copt (Hewick - Yorks), Enlisted Ripon.
Buried GLAGEON COMMUNAL CEMETERY EXTENSION.
(Although the memorial shows the soldier as being "W G Blenco", Andrew McNamara (<amc750@hotmail.co.uk>) is almost certain that this is the soldier on the memorial)
---
The Two Panels on the Skelton-on-Ure War Memorial.
(Photo : Andrew McNamara <amc750@hotmail.co.uk>)
-----------------> Return to top of the page