Remembrance - The Yorkshire Regiment, First World War
Private Arnold Edward ARCHER, 79044

Close window to return to main page
---
Photos and information relating to Private Archer are shown below.
---
Private Arnold Edward ARCHER, 79044

1st/7th Battalion Durham Light Infantry, formerly 45170 Yorkshire Regiment.
Killed 7 September 1918.
Born Rothley (Leics), Enlisted Loughborough, Resided Rothley.
Buried CHAUNY COMMUNAL CEMETERY BRITISH EXTENSION.

The following information is taken from the website for Leicestershire Villages, with the permission of the webmaster for that site (<vincent.mbe@ntlworld.com>) and the great-niece of Private Archer, Joyce Proudman. The information below can be found on the page for Rothley Village, but has been re-formatted for this website. The words and the images are identical to those found on the Rothley Village page.
---
Private Arnold Edward Archer was born in Rothley on the 17th September 1898 and died on the 7th September 1918 in the war fields of France and Flanders. Formerly Private 45170 of the Yorkshire Regiment he died as 79044, 1st/7th Battalion Durham Light Infantry. He enlisted in Loughborough.
He is commemorated in the Chauny Communal Cemetery British Extension.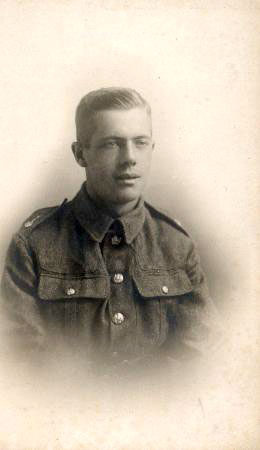 Private Arnold Edward Archer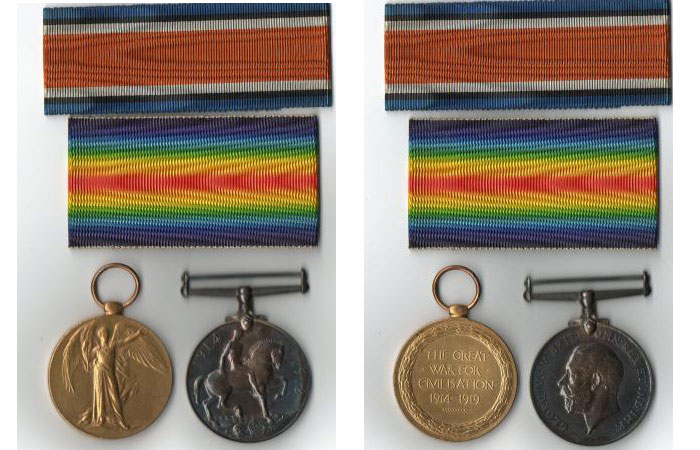 The two War Medals were sent to the family on the 20th December 1921 from the Record Office in York with the following letter:
Postcards from the Front were beautifully embroidered and this was sent by Pte. Archer to his Mother and Father with the following greeting on the reverse:
Mother and Father
To Wish you a Happy & Prosperous New Year
Arnold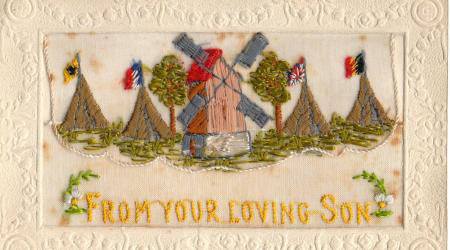 The silk front of the card lifted up and the above small card was tucked inside.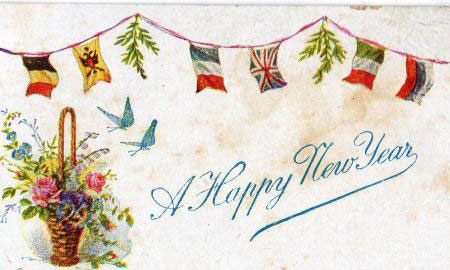 Embroidered handkerchiefs were sent as gifts and this one was sent to his family.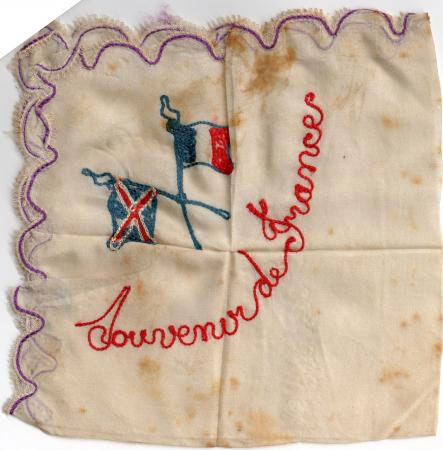 A letter sent by Pt. Archer to his family on April 19th. The envelope shows it to be April 1918.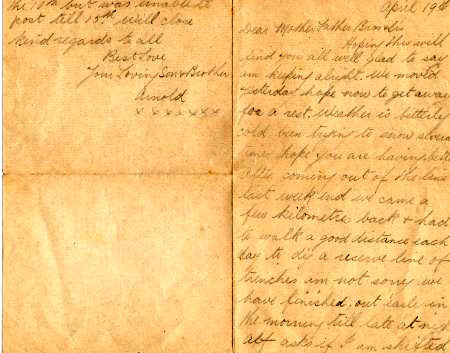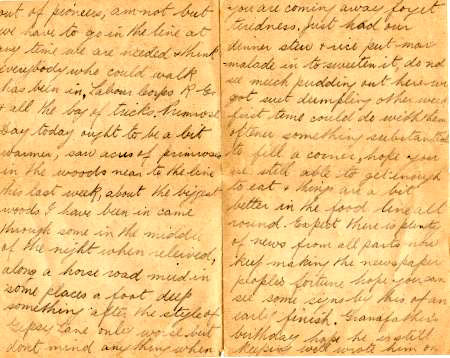 Dear Mother, Father, Bros and Sis
Hoping this will find you all well glad to say am keeping alright. We moved yesterday hope now to get away for a rest. Weather is bitterly cold been trying to snow several times hope you are having better. After coming out of the line last weekend we came a few kilometres back & had to walk a good distance each day to dig a reserve line of trenches am not sorry we have finished, out early in the morning till late at night. Alf asks if I am shifted out of pioneers, am not but we have to go in the line at any time we are needed & think everybody who could walk has been in, Labour Corps, RE & all the bag of tricks. Primrose Day today ought to be a bit warmer, saw acres of primroses in the woods near to the line this last week, about the biggest woods I have been in came through some in the middle of the night when relieved along a horse road mud in some places a foot deep something after the style of Gipsy Lane only worse but dont mind anything when you are coming away forget tiredness. Just had our dinner stew & rice put marmalade in to sweeten it, do not see much pudding out here we got suet dumplings other week first time could do with them oftener something substantial to fill a corner, hope you are still able to get enough to eat & things are a bit better in the food line all round. Expect there is plenty of news from all parts now keep making the newspaper peoples fortune hope you can see some signs by this of an early finish. Grandfather's birthday hope he is still keeping well wrote him on the 10th but was unable to post till the 15th. Will close.
Kind regards to all
Best Love
From Loving Son & Brother
Arnold
xxxxxxx
Sadly, like so many young men, Arnold died just a few weeks before peace was declared. His Father was the Post Master in Rothley and the telegram confirming the Armistice is shown below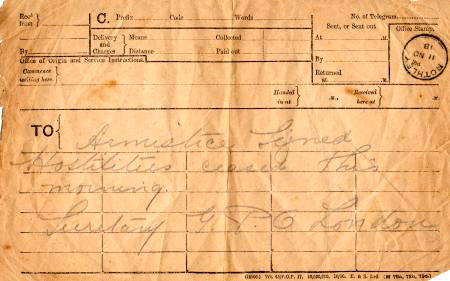 Rothley
PM
11 NO
18
Armistice Signed
Hostilities ceased this
morning
Secretary G.P.O. London
With sincere thanks to the family of the late Arnold Edward Archer for their kind permission to reproduce these records and war medals.
--------------> Return to Top of Page