Remembrance - The Yorkshire Regiment, First World War
Lieutenant William Harold ARMITAGE, MC.

Close window to return to main page
---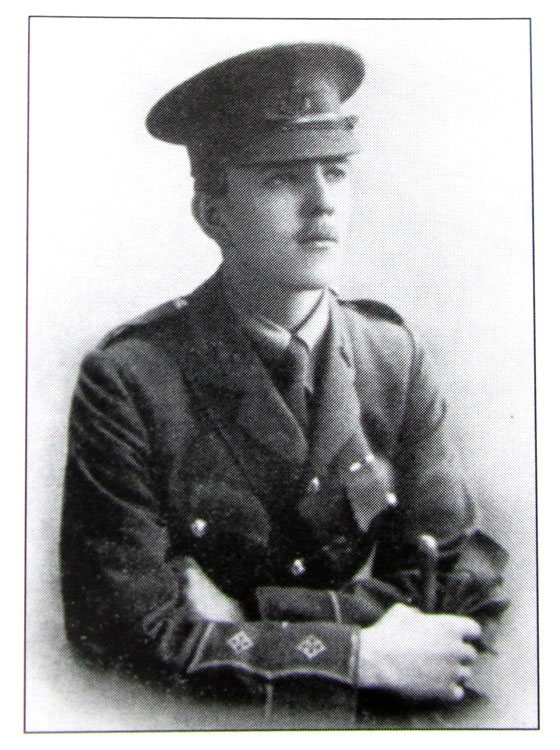 Lieutenant William Harold ARMITAGE
Photo from the book "Some Other and Wider Destiny" by Elaine Mercx and Neal Rigby
---
Lieutenant William Harold ARMITAGE, MC.

9th Battalion Yorkshire Regiment. Only son of William Henry and Eleanor Armitage, of 34, Rutland Park, Clarkehouse Rd., Sheffield. Died 22 May 1916. Aged 24.
Buried TRANCHEE DE MECKNES CEMETERY, AIX-NOULETTE.

The following biographical information is taken from Robert Coulson's "Biographies of Yorkshire Regiment Officers";- "William Armitage was not one of the original party of the 9th Battalion who landed in France in August of 1915 but joined them in a draft later in the year.
He was awarded the Military Cross for an action in early January of 1916 when in preparation for a trench raid he led out a party to cut the enemy wire. Although exposed to German searchlights which brought heavy fire down on them the wire was successfully cut. The raid itself was also a success and Captain Thompson who led the attack and Lt Armitage were both awarded the Military Cross.
In March 1916 the battalion took over part of the line on the Souchez River and during April and May they were involved in the Angres sector where Lt William Harold Armitage MC was killed in action on May 22nd at the age of 24."
From the book "Some Other and Wider Destiny" by Elaine Mercx and Neal Rigby, the following information on William Armitage is given;-
"...a remarkable career at Sheffield University..... He followed up his Scholarship by gaining the Mappin Medal for first place in the first-class honours in Engineering, as well as two University prizes. In addition he was Vice-Captain of the University Team in Rugby football. Not waiting for a commission, he joined the ranks and earned his stars in his own regiment."
--------------> Return to Top of Page