Remembrance - The Yorkshire Regiment, First World War
Captain Freeman Archibald Haynes ATKEY

Close window to return to main page
---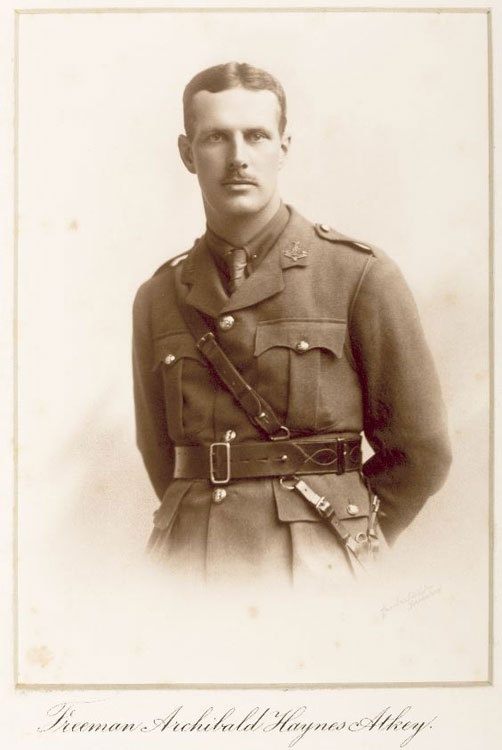 Captain Freeman Archibald Haynes ATKEY
Photo taken from the Marlborough College Roll of Honour
---
Captain Freeman Archibald Haynes ATKEY.

9th Battalion Yorkshire Regiment. Son of Frederick Walter and Ellen Louisa Atkey. Killed 5 July 1916. Aged 33.
Buried BECOURT MILITARY CEMETERY.
The following information is taken from the Marlborough College Roll of Honour;-
"Freeman Archibald Haynes Atkey was educated at Roger Cholmeley's School, Highgate, and Pembroke college, Cambridge, of which he was a Scholar. He came to Marlborough as an Assistant Master in 1908.
He enlisted in the Middlesex Regiment in September 1914. Three months later he was given a Commission in the 9th Battalion Yorkshire Regiment.
In August 1915 he went to France as a Captain. He was wounded in February 1916, but soon rejoined his Regiment.
Captain Atkey was killed by a sniper on 5 August 1916 (sic) before a successful attack by his Company near Thiepval."
Biographical notes by Miss Jayne Ringrose, Honorary Archivist, Pembroke College;-
"Born 17 April 1883. The third son of F W Atkey of 9a Sackville Street, London, and Clevelands, Wimbledon. Educated at Highgate School from 1986. Entered Pembroke as a Classical Scholar in 1901. In 1904 was placed in the 1st Division of the 1st Class of the Classical Tripos. In the following year he took a First Class in Part II of the Historical Tripos. A Chancellor's Medallist in Classics. As an undergraduate was prominent as an oarsman. In 1914 was Sixth Form master at Marlborough College. He had been in the front nearly a year and was wounded in the early spring."
The item, below, on Captain Atkey has been forwarded to this website by Grainne Lenehan, the Marlborough College Archivist (<glenehan@marlboroughcollege.org>).
The item is presented as a JPG. Select the image fro a larger one which opens in a new window.
--------------> Return to Top of Page