Further details on, and photos of, Captain Constantine are shown below.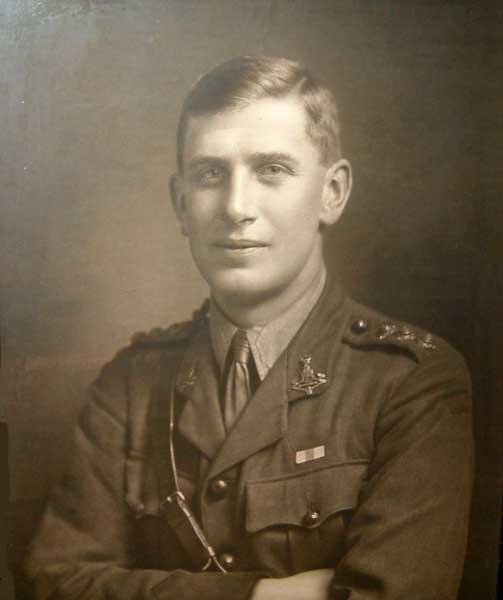 An official portrait of Captain H N Constantine, MC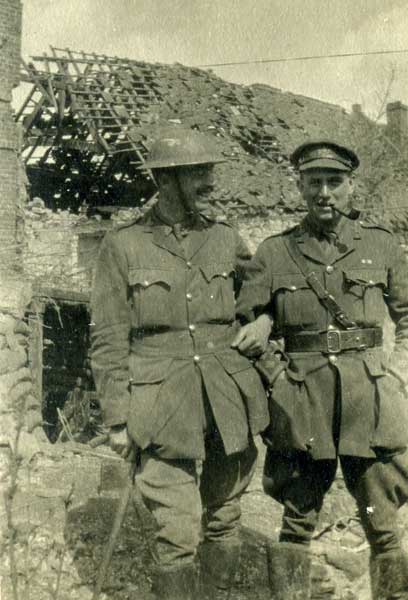 Captain H N Constantine (right) photographed near Arras, April 16th 1917>
On the left of this photo is his elder brother, Major Robert Alfred Constantine.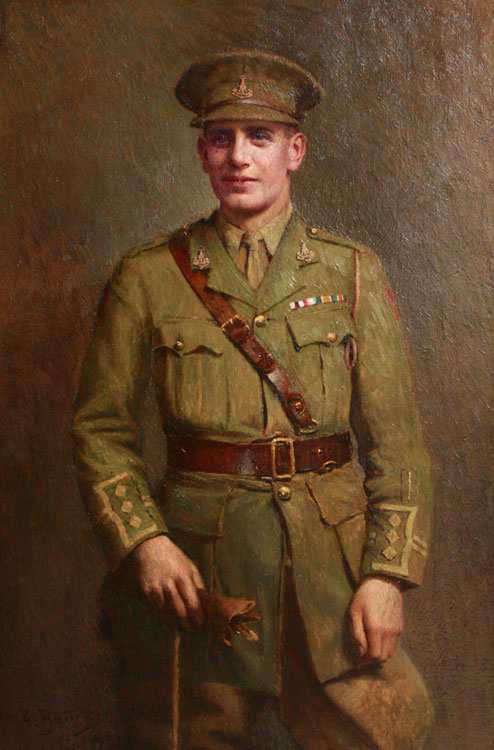 A formal portrait of Captain H N Constantine
Herbert Norman Constantine served with the 4th Battalion Yorkshire Regiment from the outbreak of the First World War until the day that he was fatally wounded on 27 May 1918.
The following details of his military career are to be found in the Green Howards Gazette (in the Green Howards Museum), the 4th Battalion War Diaries (also in the Green Howards Museum, and "The Green Howards in the Last War" by Colonel H C Wylly;-
2nd Lieutenant - September 1914 (GH Gazette)
Lieutenant - May 1915 (GH Gazette)
Wounded - June 1915 (GH Gazette)
Rejoined unit after recovering from wounds in England, - 27 September 1915 (War Diaries)
Took part in a review by the King, 17 October 1915 (War Diaries)
Awarded MC, - January 1917 (GH Gazette)
Captain - October 1917 (GH Gazette)
Obituary - September 1918 (GH Gazette)
The award of the Military Cross to H N Constantine was announced in the London Gazette of 1 January 1917.

H N Constantine's Dress Medals, - (from the left) the Military Cross, the 1914-15 Star, the Victory Medal
Captain H N Constantine's obituary published in a local newspaper (unknown) is shown below;-
Below is a photograph of the bullet that allegedly cost Captain Constantine his life;-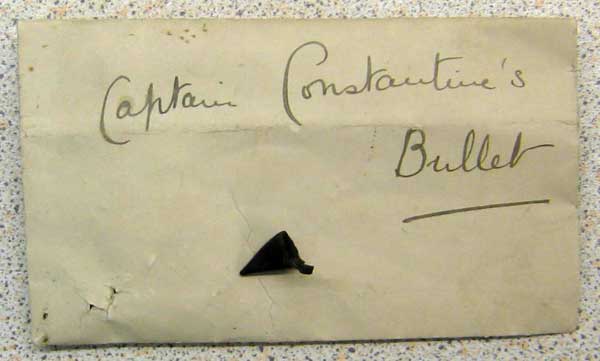 Also shown below is a copy of the letter written by Colonel Farrer Deakin, who had once been Captain H N Constantine's Commanding Officer.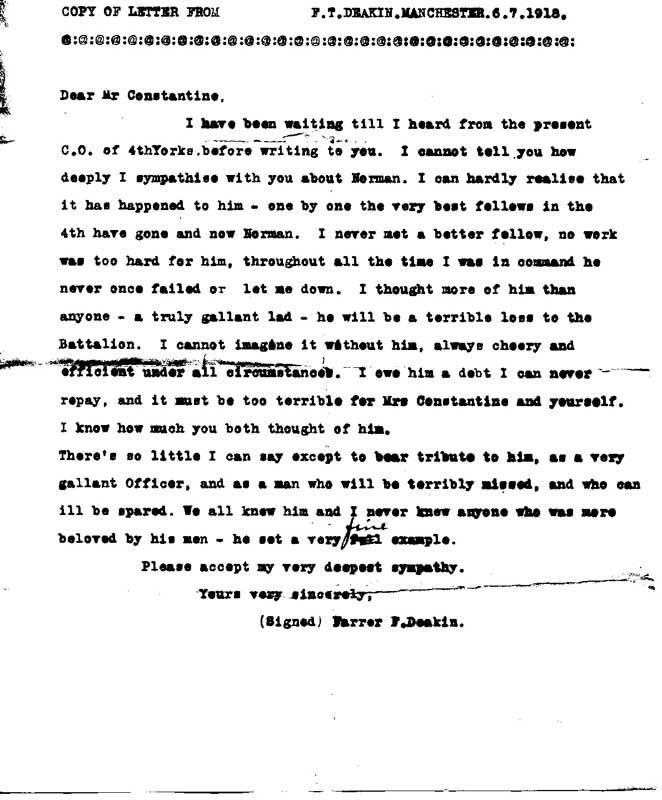 ---
Corespondence and reports relating to Herbert Constantine's military career, and death in action, can be viewed by selecting the thumbnail images (bleow). All of this data has been supplied by Simon Barnard (<barnard.4@btinternet.com>), a great nephew of Captain H N Constantine.
3 July 1915
Report of Medical Board on wound to H N C (6 May 1915) followed by contracting Scarlet Fever.
Classified unfit for General Service.

3 July 1915
Report of Medical Board
stating unfit for General Duty for 8 weeks

22 June 1916.
Report of Medical Board, Boulogne, stating H N C not fit for service after contracting Rubella. 2 weeks leave in England.

10 June 1918.
Letter from Captain L Newcombe, Yorks Regt., informing H N C's father of circumstances associated with his death in action
18 September 1918.
Official notification that H N C was feared dead.

31 October 1918.
Final notice that H N C had been killed in action and had been buried.

29 May 1919.
Letter from the Army Council to H N C's parents stating that for official purposes H N C could be considered dead.

30 October 1918.
Evidence. on a Red Cross Form, of the circumstances of H N C's death in action.
---

The Memorial Window in St. Oswald's Church, East Harlsey, dedicated to Captain Herbert Norman Constantine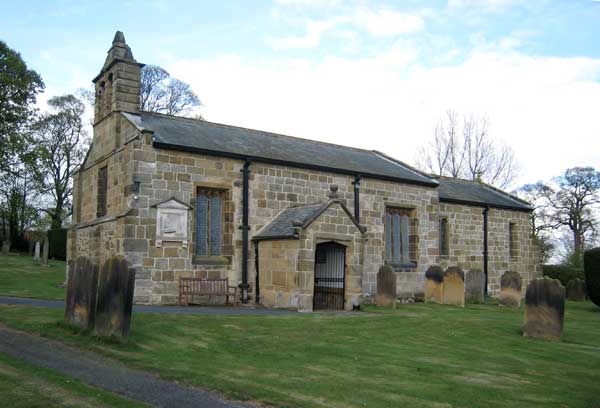 St. Oswald's Church, East Harlsey,
where Herbert Norman Constantine's memorial window is on the far left at the south western corner of the church.
---
Bill Danby (<bandl.danby@ntlworld.com>) has a website, - http://homepage.ntlworld.com/bandl.danby/001BnIndex.html, which provides a history of the 4th Battalion in the First World War, together with details of casualties in the 4th Battalion.