Remembrance - The Yorkshire Regiment, First World War
2nd Lieutenant Lionel Adolf David DAVID

Close window to return to main page
---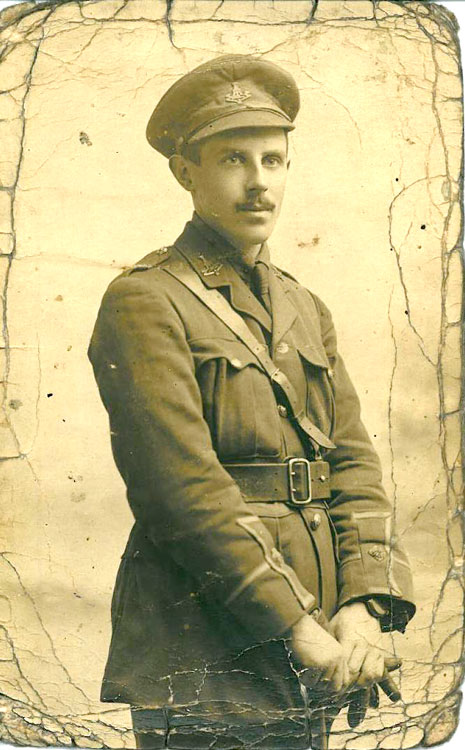 2nd Lieutenant Lionel Adolf David DAVID
Photo : John David <jedavid59@gmail.com>
The above photo, and a second photo (below), of 2nd Lieutenant Lionel Adolf David David has been provided for this website by a great nephew of his, John David.
---
2nd Lieutenant Lionel Adolf David DAVID.

7th Battalion Yorkshire Regiment. Son of Alexander and Beatrice Marian David, of "Claremont," Monk Bridge Rd., Headingley, Leeds. Native of London. Killed 1 July 1916. Aged 25.
Commemorated on the FRICOURT MEMORIAL.
Buried DANTZIG ALLEY BRITISH CEMETERY, MAMETZ.

The following additional biographical information is taken from Roberts Coulson's Biographies of Officers of the Yorkshire Regiment;-
"Lionel David was a London man being born in Kensington in 1892.
An original territorial officer of the 7th Battalion he landed with them on July 14th 1915 at Boulogne.
They first went into the line at Voormezeele in August of 1915 and stayed in this area for the rest of the year spending Christmas in Ypres.
February 1916 saw them in action at The Bluff outside Ypres when Lionel David was wounded but he was fit again by June 1916 when the battalion moved south to prepare for the Somme offensive.
Early morning July 1st 1916 found 2nd Lt David and his men in trenches facing the German fortified village of Fricourt. The plan was for the battalion to advance later in the day but for some reason never explained "A" company advanced at 8-20 a.m. and were virtually wiped out. A message got back that,
"Major Kent and Lt David were wounded and lying out in front of the wire"
2nd Lt Lionel David died in front of the British wire at Fricourt on July 1st 1916 aged 25.
His body was recovered and his grave today lies in Dantzig Alley British Cemetery at Mametz."
---

2nd Lieutenant Lionel Adolf David DAVID
Photo : John David <jedavid59@gmail.com>
--------------> Return to Top of Page