Remembrance - The Yorkshire Regiment, First World War
Private James DAYNES. 8654

Close window to return to main page
---
Further photos are shown below.
---
Private James DAYNES, 8654.
8th Battalion the Yorkshire Regiment.
Killed 18 October 1917. Aged 29.
Born Guisborough, Enlisted Middlesbrough, Resided Guisborough.
Buried HOOGE CRATER CEMETERY.

Steve Sinton (<Dogs4135@ntlworld.com>), a great nephew of James Daynes, has supplied further information and photographs relating to his great uncle. We are extremely grateful to Mr Sinton for providing this material.
---
"My great uncle was Private 8654 James Daynes, of the 8th Battalion the Yorkshire Regiment, who was killed in action in Belgium on the 18th October 1917 at the age of 29 years.
I was told by my Grandmother, Eva Whittaker, nee Daynes, that James was acting as a stretcher bearer at the time of his death, recovering the wounded from "no man's land" when he was shot by a German sniper... he died
instantly of his wound."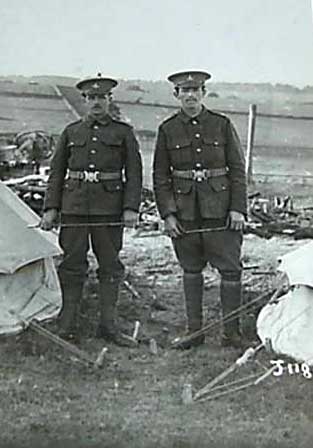 Two soldiers of the Yorkshire Regiment standing between two tents. James is on the left (small 'x' over his head).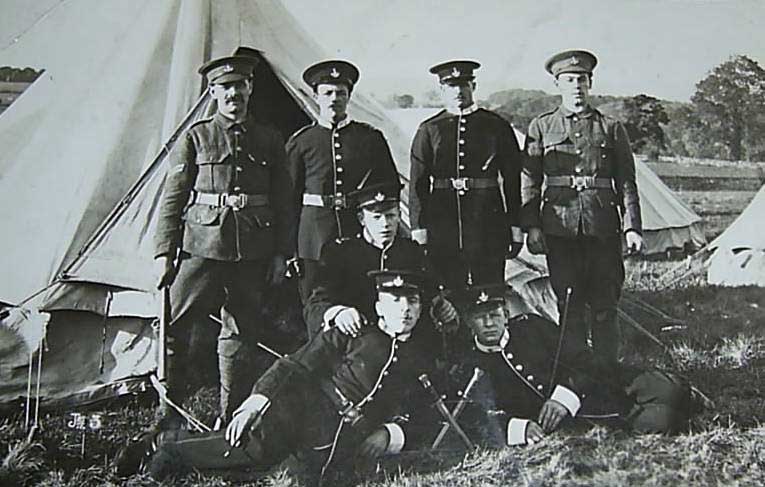 A group of seven soldiers of the Yorkshire Regiment, with James Daynes second from right in the back row.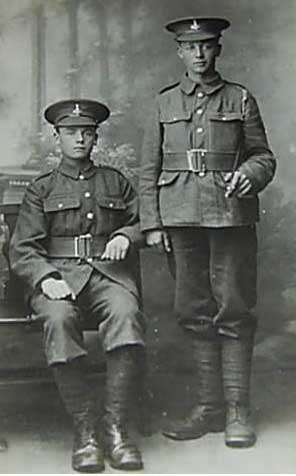 Two soldiers of the Yorkshire Regiment, relatives of the family but names hard to make out.
The names look like Jim & Fred Wored ( might be Ward - Gran was not the best of spellers...)


A Memorial silk book mark - naming him as the youngest son of Robenia and the late William Daynes, of 17 Belmont Terrace, Guisborough.

"There on the field of battle
He bravely took his place.
He fought and died for England
And the honour of his race.

He sleeps not in his native land
But 'neath the foreign skies
Far from those who loved him best
In a hero's grave he lies.

Deeply mourned by his mother, sister, and brothers.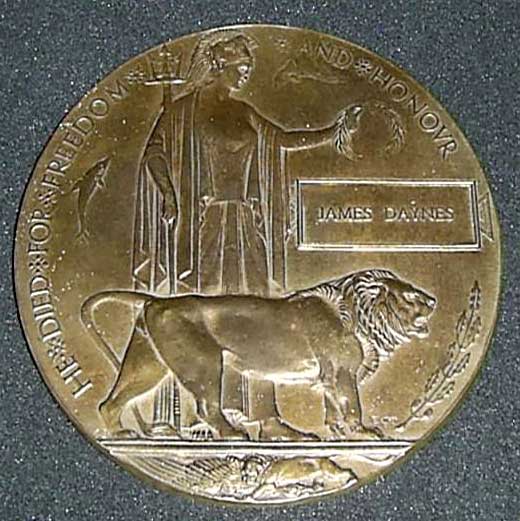 A Commemorative Plaque,
as issued to the next of kin of service personnel who had died of war injuries, for James Daynes.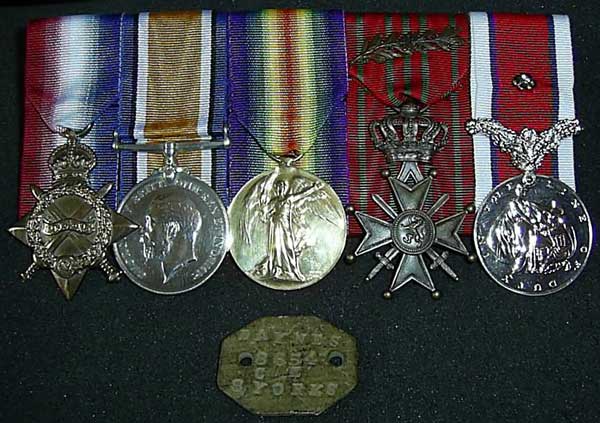 James Daynes medals and identification tag.
From the left, the 1914-15 Star, the British War Medal, the Victory Medal.
The two other medals are;-
1) the Belgian Croix de Guerre with palm - this was returned to the family with his belongings
following his death in 1917. There was no paperwork to say when or why it had been awarded.
2) the Hors de Combat with poppy, instituted in 2001, in aid of the Ex-Services Mental Welfare Society
( Combat Stress ). The medal is cupro-nickel and 36mm in diameter.
The obverse depicts a Gladiator kneeling before a female figure with the legend "In the line of duty"
The reverse is a stylised rendering of a surgeon's knot with the same legend.
The poppy on the ribbon indicates it was issued to the next of kin of those killed in action.
-----------------> Return to top of the page