Remembrance - The Yorkshire Regiment, First World War
Private Francis Elijah GOODING. 20909
Close window to return to main page
---
Select the thumbnail image above for a larger sized photo which opens in a new window.
---
Private Francis Elijah GOODING, 20909

12th Battalion the Yorkshire Regiment. Later 93371 Royal Defence Corps.

A grandson of Francis Elijah Gooding, Don Heald has sent a photo of his grandfather which can be seen by selecting the image above. Don Heald also provides the following information;-

"Francis Elijah Gooding was born at 4 Nixon Street, Linthorpe, Middlesbrough on the 4th of August 1884 and was the eldest of 24 children. He died on the 20th December 1964.
My grandmother (Frank's wife) told me that he was running through a wood in France when he was shot in the back by a German sniper who was up a tree. The small pack on his back contained 13 pairs of socks which absorbed the dum dum bullet and saved his life. He was hospitalised at Pirbright. When he took his shirt off I could see the dent in his spine which was the size of a fifty pence piece. The injury did not prevent him from later working as a labourer at Acklam Coke Ovens (part of Dorman, Long).
In the photograph of the hut he is 6th from the front on the right hand side, but I don't know where it was taken.(Select the thumbnail image below for a larger one which opens in a new window).

Don Heald has also forwarded a photo of No 1 Platoon, 12th Battalion, in which Francis Gooding can be identified top left.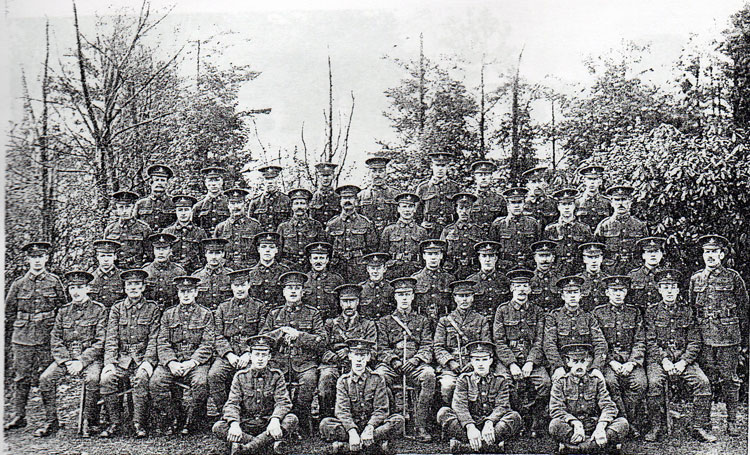 Select the above image for a larger sized image which opens in a new window.
By comparison with another photo of a platoon of the 12th Battalion, shown on p151 of "The Green Howards, A History in Photographs 1855 to 2006", published by the Green Howards Regimental Museum, the above photo was probabaly taken at Pirbright Camp in February 1916.
---
Don Heald provides the foillowing information about himself;-
"I served as MT Clerk (23053461) with the 2nd Battalion Green Howards in Cyprus in 1955 and was brought up by my maternal grandfather Francis Elijah Gooding. At my passing out parade in November 1954 he managed to walk up the hill to Richmond Depot to see me being presented with the book, "The Story of the Green Howards 1939 – 1945" for being best shot rifle. "
-----------------> Return to top of the page