Remembrance - The Yorkshire Regiment, First World War
Lieutenant Gerald Francis HADOW

Close window to return to main page
---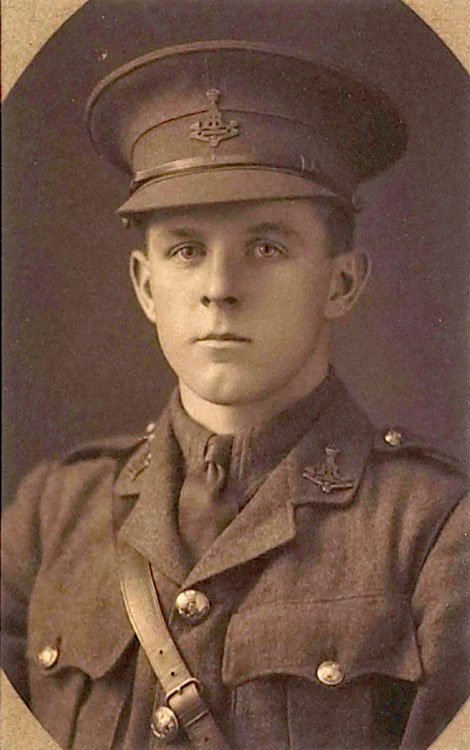 Photo courtesy of Mrs Beverely Matthews (<Beverley.Matthews@tonbridge-school.org>) the Tonbridge School Archivist.
A website set up by Tonbridge School includes this photo in a Book of Remembrance, together with other biographical details.
---
Lieutenant Gerald Francis HADOW

2nd Battalion the Yorkshire Regiment. Killed 15 June 1915. Aged 21.
Commmeorated on Panel 12, LE TOURET MEMORIAL.

The following biographical details are provided in Robert Coulson's Biographies of Officers Killed in the First World War;-
Gerald Hadow was the son of Colonel Arthur Hadow listed above and was born at Scarborough on January 24th 1895. He was educated at Tonbridge School and then attended the Royal Military Academy at Sandhurst.
He was commissioned in August of 1914 and spent the early months of the war with the 3rd Battalion on coastal defence work at Hartlepool.
He joined the 2nd Battalion in the winter of 1914 after their losses at the 1st Battle of Ypres.
He fought at Neuve Chapelle in March 1915 and commanded for a day and a half when all the other officers had been killed. He next saw action at Festubert and on June 14th 1915 the battalion moved into trenches to the east of Givenchy.
They attacked the next morning at 6-00 a.m. and after a successful assault Lt Hadow was making his way back to HQ to report when he was killed by shellfire on June 15th 1915 aged just 20.
He was mentioned in Sir John French's despatches "For gallantry and distinguished service in the field".

The following comes from M L Ferrar's "Officers of the Green Howards 1688 - 1931";-
Born at Scarborough, 24th January, 1894, son of Colonel A. de S Hadow, late 19th Foot.
2nd Lieut., 15th August, 1914 ; Lieut., 8th March, 1915.
Took part in the battles of Neuve Chapelle and Festubert.
Killed in action at Givenchy, 15th June, 1915.
" He had reached the German barbed wire, and finding he was practically alone, returned to his own trenches, which he reached untouched. Here he found his Captain killed and all the other officers dead or wounded. His company went into action 180 strong and had 142 casualties. He returned to report to the C.O., and on the way was struck on the head by a piece of shell. A captain under whom he served wrote : ' I feel I have lost a young friend whom I had got to know and tested in perhaps the most severe time — war time — and he never failed. He was such a gallant little fellow and quite ready to die for the good cause.' "
--------------> Return to Top of Page