Remembrance - The Yorkshire Regiment, First World War
Private James HOPE. 17452
Close window to return to main page
---
Private James Hope is the soldier in the centre of the group of three in the photo below.
This photo is of the family in which three soldiers of the 10th Battalion were billeted in November 1914 - May 1915.
A description of this photo, provided by Paul Kite <paul.kite@btinternet.com>) a descendant of the family is also below.
---
Private James HOPE.17542.

10th Battalion Yorkshire Regiment. Killed 26 September 1915.
Born Millfield (Sunderland), Enlisted Newcastle, Resided Newcastle-on-Tyne.
Commemorated on Panels 44 & 45, LOOS MEMORIAL.
---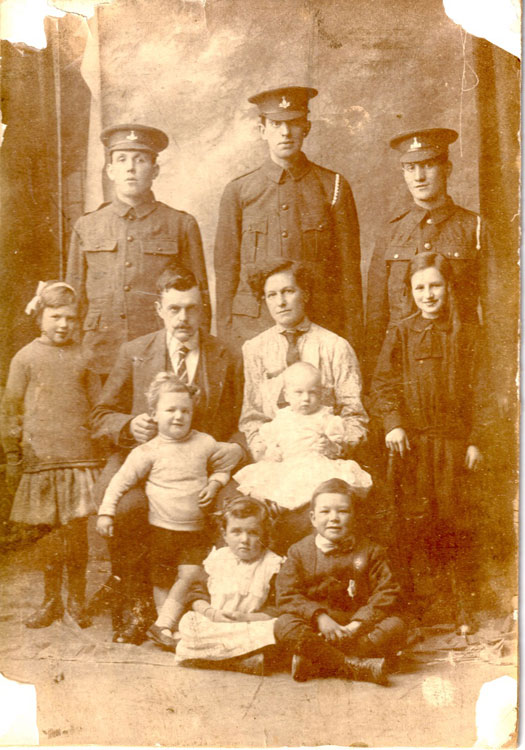 The Kite Family of Aylesbury, with whom the the three soldiers of the 10th Battalion were billeted.
Select the above image for a larger sized version which opens in a new window,
---
Paul Kite <paul.kite@btinternet.com>) has provided the following comments on the above photo;-

T hree members of the Yorkshire Regiment were billeted with my Grandfather, Douglas Edward Kite, a tailor living at 7. Abbots Road. Aylesbury in 1914.

The photograph shows the three men and what was then, my Grandparents and their 6 children. They went on to have 9 children in all.
Of note for the famiy is that two of the children were given nicknames by the soldiers. My father nicknamed Paddy because of his temper tantrums; a name which stuck all his life. Harry Ralph (Paddy) Kite is the baby seated on my Grandmother Ellen Florence's knee.
The little girl to the left of the photo - Grace, was nicknamed Jack after one of the soldiers and that stuck for her childhood life - always being referred to as "Jack" even in letters her father wrote to her as a young married woman.
The photo has been in the family since it was taken and from anecdotal family evidence we know one of the three was killed in WW1 and referred to by my Grandmother as "Ginger" and a tearful comment "Ginger is dead".
We also know that one of the three gave my Grandfather an object, not specified but we believe a watch which was to be sent to his relatives should the worst happen. I gather that was duly done and again maybe for Ginger.
I discovered from their cap badge that they are Yorkshire Regiment. Nevertheless they were always referred to as "Geordies"
From my Aunt Grace who annotated the back of the photo in Oct.1994 (see below).
Their names are:
? Urwin - Jack Hope - Billy Jones. She say that Urwin was killed (again, maybe Ginger?).

Of interest to me are the location of the memorials for each one of the surnames: Stockton, Washington and Sunderland Memorials making all of them (technically) Geordies as the family remembers.
---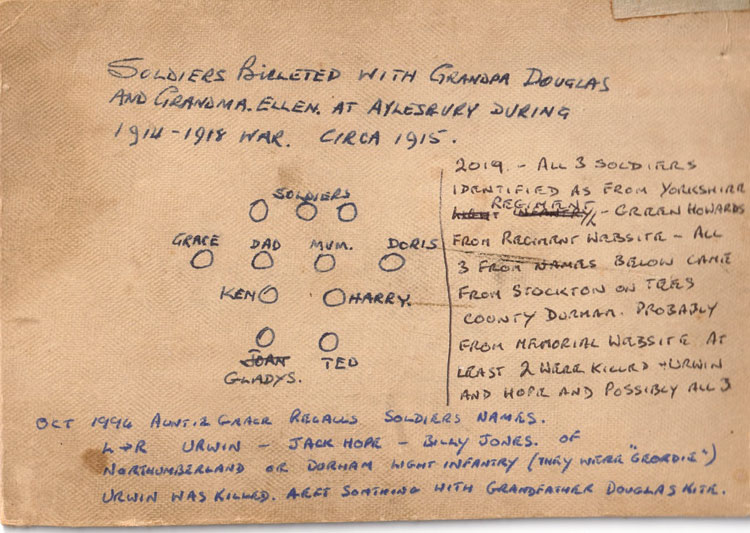 Description attached to the back of the Kite Family Photo.
-----------------> Return to top of the page