Remembrance - The Yorkshire Regiment, First World War
2nd Lieutenant Frederick Hunter HYLAND
Close window to return to main page
---
Select the thumbnail image above for a larger sized photo which opens in a new window.
This photo, and the scan of the press cutting below, are from the Imperial War Museum collection and there are no known copyright restrictions.
---
2nd Lieutenant Frederick Hunter Hyland. RFC, formerly 7th Battalion the Yorkshire Regiment. Son of Samuel and Eleanor Hyland, of Radcliffe House, Pudsey, Yorks. Killed 23 May 1915. Aged 23.
Buried VIEUX-BERQUIN COMMUNAL CEMETERY.
---
The following biographical notes are taken from Robert Coulson's biographies of Yorkshire Regiment Officers who lost their lives in the First World War;-
Frederick Hyland was born in Pudsey on May 29th 1891.
He was educated at Bilton Grange School in Harrogate and was a member of the Officer Training Corps and studying medicine at Leeds University when war broke out.
2nd Lt Hyland was commissioned into the 7th Battalion Yorkshire Regiment in September 1914 but only remained with them for a few months before being transferred to the RFC in January of 1915.
2nd Lt Frederick Hunter Hyland was killed on May 23rd 1915 at the age of 23.
He was flying as observer to Lt R C H Bewes in an RE 5 belonging to No 7 Squadron when the machine broke up at three hundred feet, both men dying of their wounds.
It is believed a grenade accidentally exploded in the aircraft.
His grave today lies in Vieux-Berquin Communal Cemetery to the east of Hazebrouck and his name is also remembered on Pudsey War Memorial.
2nd Lt Hyland was the son of Samuel and Eleanour Hyland of Radcliffe House in Pudsey.
His senior officer wrote to his parents,
"I never want a better or pluckier observer than he was and the squadron feel his loss deeply. He was most universally popular".
---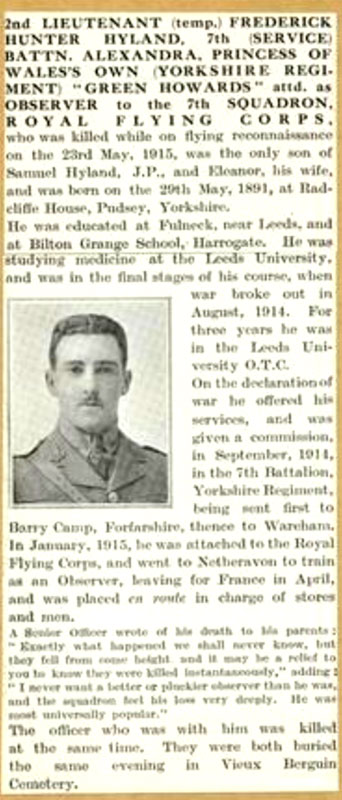 ---
Colin Bewes (<colin@bewes.org>), a great nephew of Lieutenant Reginald Charles Hope Bewes, the pilot of the RE5 in which Frederick Hyland, his observer, also died has provided much further information on this incident. He has also provided a photo of Lieutenant Bewes, the pilot.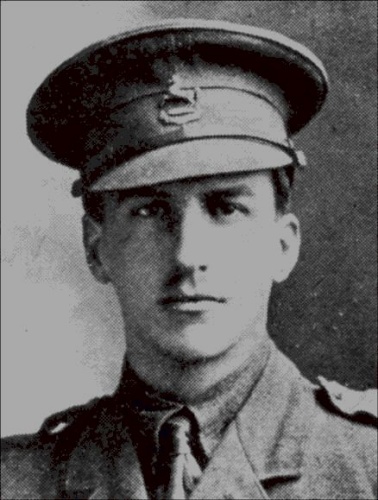 Lieutenant Reginald Charles Hope Bewes (cap badge is of the Liverpool Regiment)
Photo : Colin Bewes (<colin@bewes.org>)
A very full report on the incident in which both men lost their lives has been provided by Colin Bewes and may be read by selecting this link.

-----------------> Return to top of the page