Remembrance - The Yorkshire Regiment, First World War
Private Edward KIRBY. 1963
Close window to return to main page
---
Select the thumbnail image above for a larger photo which opens in a new window.
---
Private Edward KIRKBY. 1963.

5th Battalion Yorkshire Regiment.

Edward Kirkby is particularly interesting in that he enlisted in the 5th Battalion on 31 August 1914, stating that he was 17 years and 7 months old, when he was, in fact, only 14 years old (born 31 January 1900). Even being 17 years old was under-age for enlistment!
He was with the 5th Battalion in France (awarded the 1914-1915 Star), but was found to be under-age in February 1916 and was posted home on 25 March 1916. He remained with the 5th Battalion until 28 August 1916 (still only 16 years old).
He re-enlisted with the 3rd Battalion Northumberland Fusiliers (Reg. No 92000) in March 1918, and remained with them until February 1919, - reaching the rank of Corporal.
He re-enlisted with the 5th Battalion Yorkshire Regiment in July 1920, and served with them until September 1925.

Below is a photo of Edward Kirkby with fellow members of the 5th Battalion in camp (late 1914?). Photos are courtesy of Bill Goble (<wagoble@hotmail.com><).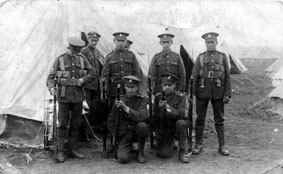 Select the above photo for a larger sized image which open in a new window
-----------------> Return to top of the page