Remembrance - The Yorkshire Regiment, First World War
Private Joseph Gibson LUNN. 202952
Close window to return to main page
---
Select the thumbnail image above for a larger photo which opens in a new window.
---
Private Joseph Gibson LUNN. 202952.

4th Battalion Yorkshire Regiment. Son of Henry and Barbara Lunn, of 33, Bessemer Terrace, Mount Pleasant, Spennymoor, Co. Durham. Killed 23 April 1917. Aged 22.
Born Spennymoor (Durham), Enlisted Spennymoor.

Photos provided by Fraser Welsh (<fraser.welsh@googlemail.com>) and Jane Hubbard (<jhub167@hotmail.co.uk>)
For a larger sized image, which opens in a new window, of Joseph Gibson Lunn's Memorial Card please select the small sized image.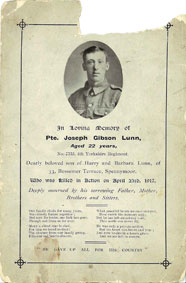 -----------------> Return to top of the page