Remembrance - The Yorkshire Regiment, First World War
Private John Naisbitt MATTHEWS. 202954
Close window to return to main page
---
Private John Naisbitt MATTHEWS. 202954.

4th Battalion Yorkshire Regiment. Son of Obadiah and Ellen Matthews, of 9, 4th Cross Row, Chilton Lane, Ferryhill, Co. Durham. Native of Spennymoor, Co. Durham. Killed 23 April 1917. Aged 22.
Born Spennymoor (Durham), Enlisted Ferryhill
Buried WANCOURT BRITISH CEMETERY.
Below are shown;-
1 A Memorial card for John Naisbitt Matthews
2 The Official letter informing his father that John had been killed in action, and
3 A photograph of his father, Obadiah, with John Naisbitt and four of his brothers.

Photos provided by Fraser Welsh (<fraser.welsh@googlemail.com>) and Jane Hubbard (<jhub167@hotmail.co.uk>)

The Memorial Card for John Naisbitt Matthews
(The Regimental Number 7537 is his original number, before the re-issue of numbers to Territorial Units on 1 March 1917)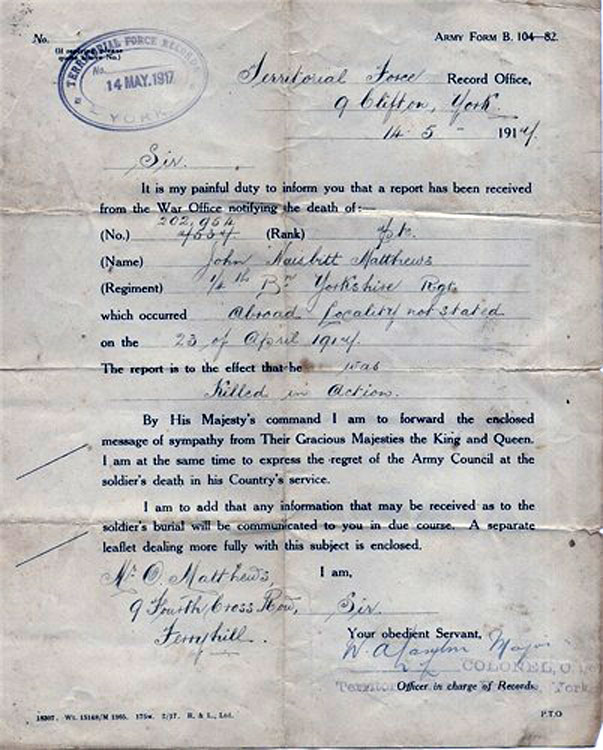 The Official Letter notifying his father of John Naisbitt Matthews' Death

Obadiah Matthews with five of his sons. John Naisbitt standing on the left.
-----------------> Return to top of the page