Remembrance - The Yorkshire Regiment, First World War
Sergeant William McNALLY, VC MM*. 13820
Close window to return to main page
---
Select the thumbnail image above for a larger photo (with biographical details) which opens in a new window.
---
Sergeant William McNALLY, VC MM*, 13820

William McNally was born at 12 Bude Square, Murton, near Seaham, County Durham on 16th December 1894. At the age of four, he went to Murton Colliery School but left, aged 14, to follow his father down the pits as a pit pony boy. He worked six shifts a week until he was 20 years old. On 3rd September 1914, he enlisted in Sunderland into the Green Howards. After training he was posted to the 8th (Service) Battalion, The Yorkshire Regiment at Halton Park Camp in Buckinghamshire. They trained for a year before travelling to France in August 1915 as part of 69 Brigade, 23rd Division.
As a Private he was awarded his first Military Medal on 10th July 1916 for bravery at Contalmaison during the Battle of the Somme which was gazetted on the 23rd August 1916. He went to the assistance of an officer who was wounded in the thigh and dragged him back to safety.
On 3rd November 1917, he won a bar to his Military Medal for bravery near Passchendaele. On three separate occasions, he rescued men who had been wounded or buried by enemy shellfire in the trenches. It was not gazetted until 23rd February 1918.
In mid-November 1917, the 8th Yorkshires were sent from the Western Front to northern Italy. 13820 Sergeant William McNally MM* performed three separate acts of gallantry between 27th and 29th October 1918 to win the Victoria Cross north east of the River Piave in Italy. The citation was in The London Gazette on 14th December 1918.
In February 1919, Billy McNally left the army at Ripon still suffering from his third wound, a bullet in the leg, but it did not stop him from returning to work down the pits at Murton Colliery. He married in July just before receiving the Victoria Cross in Buckingham Palace from H.M.King George V on 17th July 1919. He was a member of the Miners' Lodge Committee and in 1947 became a timber-yard foreman making pit props. On 26th June 1956 he attended the Hyde Park VC Reunion and retired at the age of 65 years in July 1958.
He lived in retirement for a further 16 years taking an active part in the local community, and regularly attended VC & GC Association and Green Howard Association reunions. He died at his place of birth on 5th January 1976. His ashes were scattered in Sunderland's Garden of Remembrance at the Tyne and Wear Crematorium. In October 1978, his life was commemorated by a stone memorial in Murton Park near the village war memorial. The stone memorial was unveiled by his widow accompanied by their two sons and daughter. Mrs McNally presented her husband's Victoria Cross, Military Medal and Bar, and six medals to the Regiment in 1979. They are held by the Green Howards Regimental Museum in Richmond.
(The above is taken from "Beyond Their Duty" by Roger Chapman. This book was specialy written to commemorate the only occasion on which all 18 Victoria Crosses won by members of the Green Howards regiment were together (April to October 2001, in the Green Howards Museum). The book may be purchased from the Green Howards Museum Shop.)
On the 100th anniversary of William McNally being awarded the Victoria Cross, a special exhibition was held at the Murton Community Centre. The exhibition included a display of William McNallys's Medal, as well as the paving stone which was one of those specially commissioned to commemorate he award of the Victoria Cross to recipients in the First World War. Photos from this exhibition are shown below.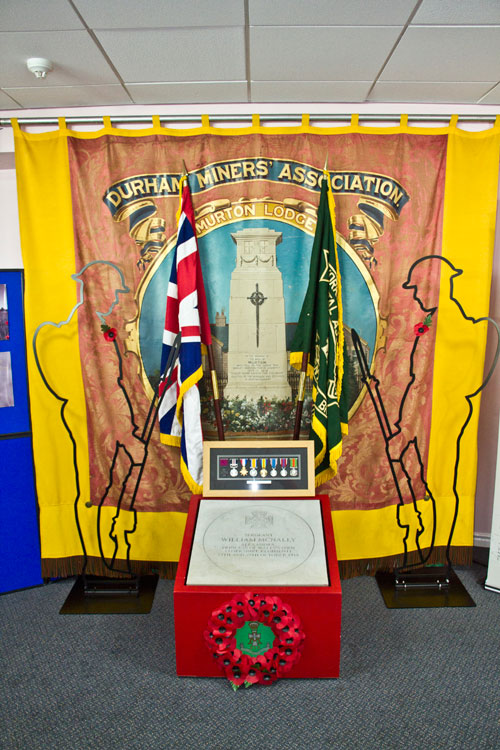 The McNally exhibition held at the Murton Community Centre.
Photo : Edward Nicholl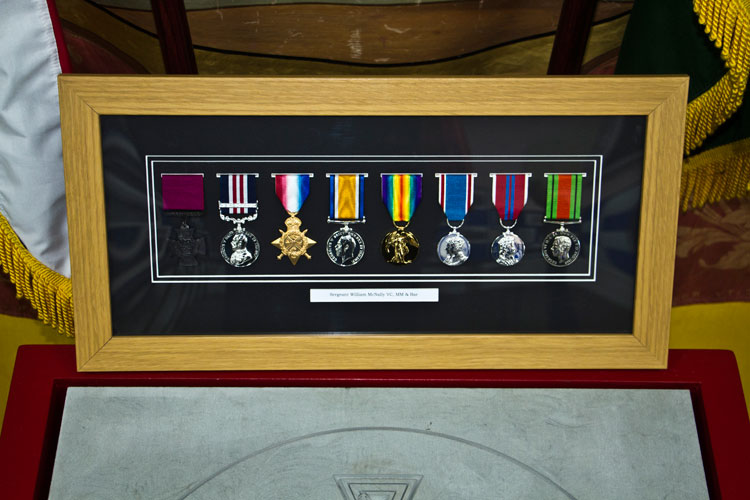 William McNally's Medals
The medals are : Victoria Cross, Military Medal & bar, 1915 Star, British War Medal, Victory Medal, George VI Coronation Medal, Elizabeth II Coronation Medal, Defence Medal
Photo : Edward Nicholl
-----------------> Return to top of the page