Remembrance - The Yorkshire Regiment, First World War
Lieutenant Herbert Sarif Roy MONTESOLE
Close window to return to main page
---
Biography provided below.
---
Lieutenant Herbert Sarif Roy MONTESOLE

Royal Sussex Regiment, attached to the 2nd Battalion the Yorkshire Regiment.
Son of Max and Emma Montesole, of Hornsey, London. B.Sc. (London), A.M.I.C.E.
Killed 17 May 1915.

Buried GUARDS CEMETERY, WINDY CORNER, CUINCHY

A great-niece of the above soldier, Ann Brewitt (<ann.brewitt@btinternet.com>) has kindly provided us with family papers that provide a brief biography of the above soldier, as well as a photograph of his original grave. This can be seen below.
A contemporary obituary for Lieutenant Montesole as a past student of King's College, London, can be found on
http://kingscollections.org/warmemorials/kings-college/memorials/montesole-herbert-sarif-roy
---
LIEUTENANT HERBERT SARIF ROY MONTESOLE

Royal Sussex Regiment, attached to the 2nd Battalion the Yorkshire Regiment. Son of Max and Emma Montesole, of Hornsey, London. B.Sc. (London), A.M.I.C.E. Killed 17 May 1915.
Buried GUARDS CEMETERY, WINDY CORNER, CUINCHY

Lieutenant Montesole's father, Max, wrote the following biography of his son in July 1916;-
H S Roy Montesole. B.Sc (London) A M I C E
Lieutenant 2nd Royal Sussex Regiment
Born at 270 Wightman Road, Hornsey. Educated at the Stationers' and London County Secondary Schools. Entered London University (King's College Engineering Section) and graduated B.Sc in Jube 1914. Joined the London University AT C (in which he rose to be a Sergeant) in 1911 and was gazetted to the Special Reserve of the Royal Sussex Regiment in July 1914.
Took out a draft of the 2nd Yorkshire Battalion from West Hartlepool to France on October 12 1914 (See Note 1) and served with distinction in that battalion in the trenches between Armentieres and Festubert during the terrible winter of 1914-1915.
Took part in the Battle of Neuve Chapelle (being one of the officers who survived that action), the Battle of Fromelles, May 9 1915, and fell on the second day of the Battle of Festubert, being at the moment of his death the only combatant surviving officer of those who had served throughout the winter. (See Note 2)
"One of the best subalterns in the Regiment" wrote Major Stansfeld (See Note 3), on whom devolved command of the battalion, "Always cheerful, perfectly cool, daring and resourceful."
On the battlefield of Neuve Chapelle, on Feb 13 1915, he met his two brothers Eric and Alan (See Note 4) whom he had not seen since July 1914. They were then serving in the 7th Middlesex Regt. Eric, who later became 2nd Lieutenant and Machine Gun Officer in the 7th Royal Sussex Regt was killed at the Hohenzollern Redoubt on March 3 1916. Alan is now a subaltern in the Machine Gun Corps. His eldest brother – Herschel – is a Captain in the R A M C attached to the 2nd Royal Fusiliers which has just suffered so terribly at the Battle of the Somme.
Another brother, Max, is serving in the Canadian Army (See Note 5).

Note 1
The original draft of the 2nd Battalion sailed from Dover on 6 October 1914. He was not with this draft.
From the Medal Rolls Index card for Herbert Montesole, it would appear more likely that he actually embarked on 10 November 1914. The Battalion War Diaries refer to a reinforcement draft of 5 Officers and 513 Other Ranks arriving on 16 November 1914 from Havre. None of the officers are named in the War Diary.

Note 2
The Battalion War Diary for 17 May 1915 mentions that Lieutenant Montesole was "Killed by a shell".

Note 3
The 2nd Battalion Yorkshire Regiment was commanded by Colonel Walter Lorenzo Alexander in 1915, up until 14 May. On that day, Colonel Alexander was also "killed by a shell".
Major Thomas Wolryche Stansfeld then assumed command of the Battalion. He survived the war, serving with great
distinction and retiring with the rank of Brigadier-General in March 1929.

Note 4
The brothers were Eric Alfred Montesole and Allan Harland Montesole.
Eric was originally a Sergeant in the 7th Middlesex Regt, before joining the 7th Royal Sussex Regiment as a 2nd Lieutenant. He was killed on 4 March 1916.
Allan Harland Montesole became a 2nd Lieutenant in the Machine Gun Corps, and survided the war. He died in Q4 1949 aged 54.
Max Herschel Edward Richard Montesole (the eldest brother "Herschel") served as a Captain in the Royal Army Medical Corps, first entering the theatre of war in May 1916 (Medal Rolls Index card).

Note 5
Max Bertram Sarif Montesole (the brother "Max") served with the Canadian Overseas Expeditionary Force, joining the Canadian Army while working as an actor in Toronto. (http://www.collectionscanada.gc.ca/databases/cef/001042-119.02- e.php?image_url=http://data2.archives.ca/cef/gpc011/500280a .gif&id_nbr=184090)

A photograph of Lieutenant Herbert Montesole's original grave as sent to his family.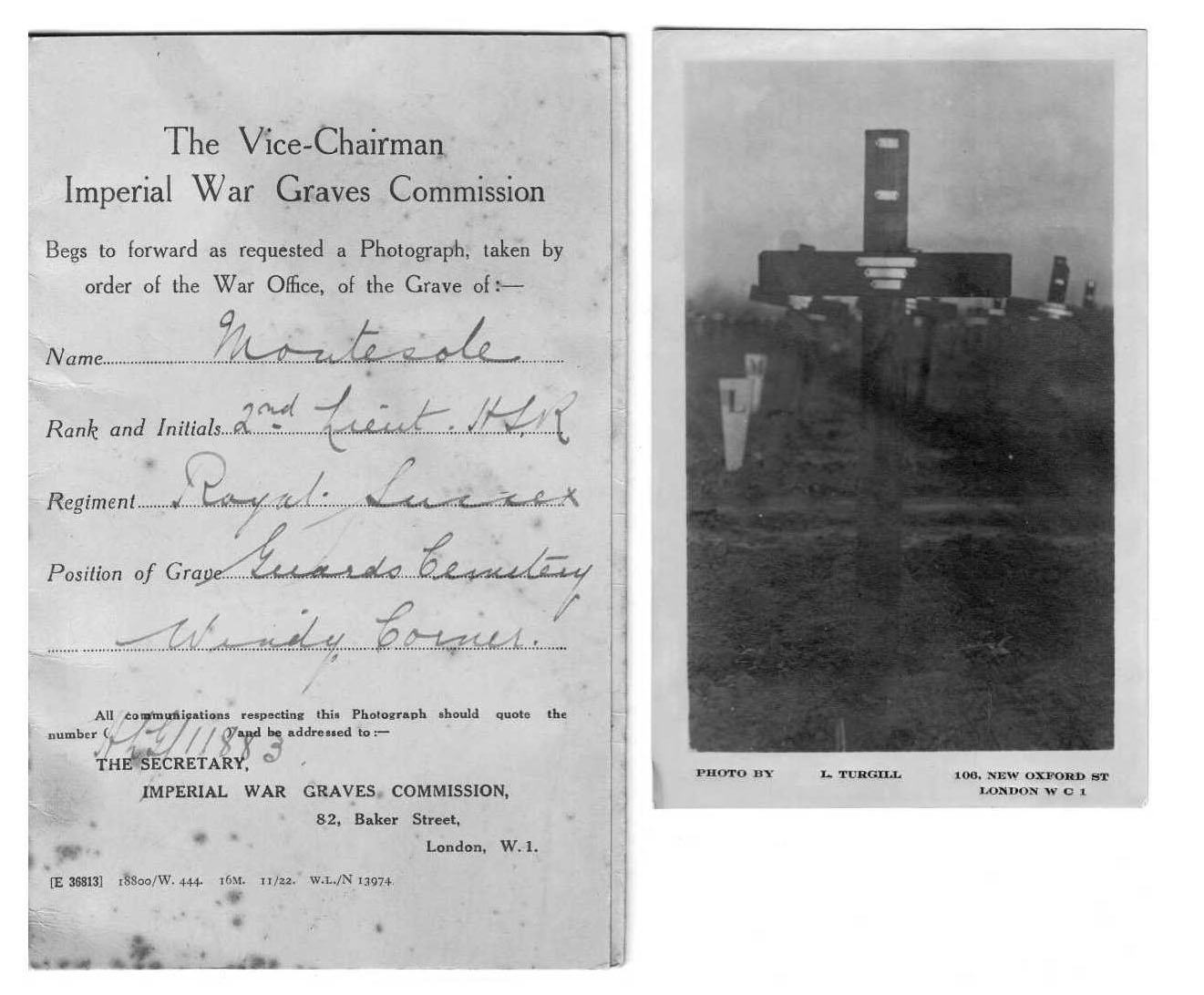 -----------------> Return to top of the page