Remembrance - The Yorkshire Regiment, First World War
Private Harold MOODY. 1613
Close window to return to main page
---
A larger sized image of Private Leonard Miller is shown below.
---
Private Harold MOODY, 1613.

4th Battalion the Yorkshire Regiment. Son of Richard Jackson and Jane Moody of 31 High Street, Lingdale. Died 27 April 1915. Aged 19.
Born Eston (Yorks), Enlisted Skelton, Resided Lingdale.
Buried LONGUENESSE (ST. OMER) SOUVENIR CEMETERY.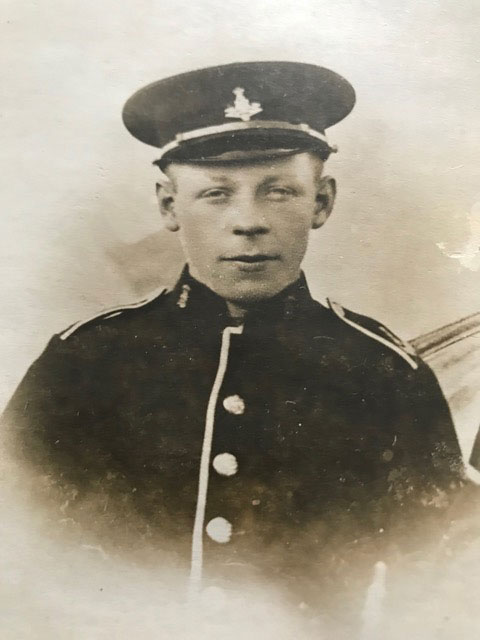 Private Harold MOODY
The above photo was provided by Peter Green <peter.green3@yahoo.co.uk>, a great nephew of Harold Moody.
Peter Green has also supplied photos of the local memorial cards for Harold Moody.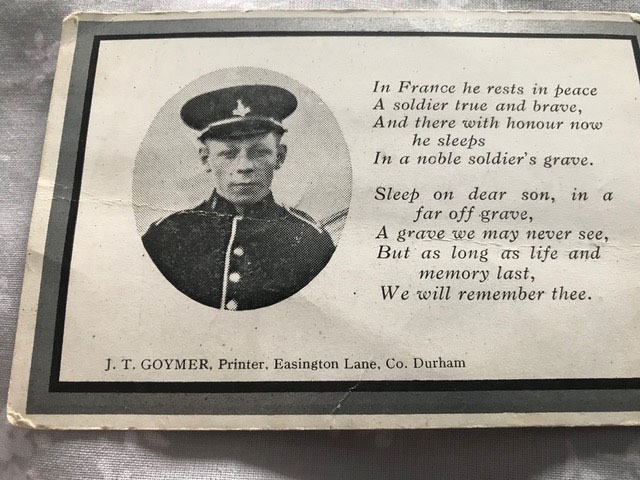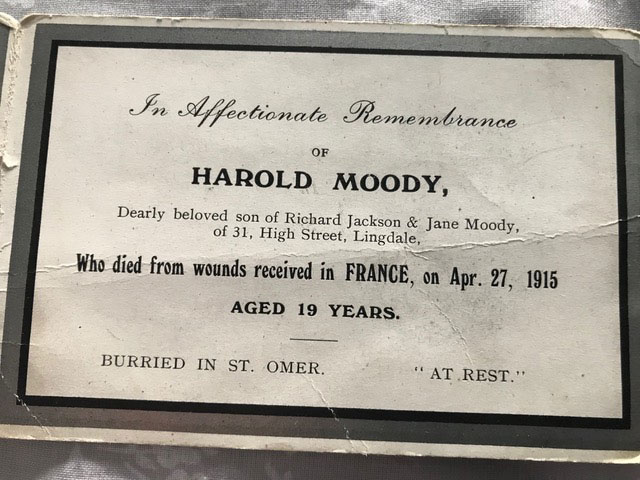 The uniform that Harold Moody is wearing in the photo is pre-War Review Order uniform for the 4th and 5th Battalions of the Yorkshire Regiment.
Another photo shows Harold Moody with Private Lawrence Ernest Walker (both men identified on the rear of the photo).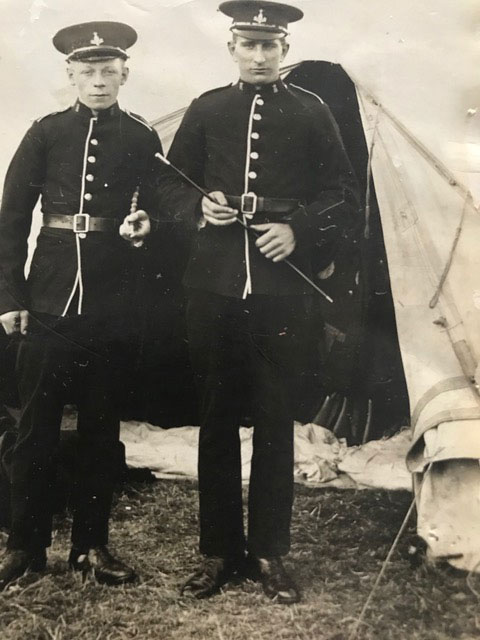 Private Lawrence Ernest Walker, 1607, was born in Q1 1893 in Guisborough. He died in June 1971 (in the Don Valley, Yorkshire West Riding).
His Medal Index Card shows that he first served in France on 18 April 1915 ( 1914-15 Star).
The Service Medal and Award Rolls presents two different cases;-
1. Discharged on 16 March 1917 (Regimental Number 1607).
2. Still Serving 23 July 1920, - Regimental Numbers 1607 and 66564. The second number indicates that maybe he was with another Battalion after re-enlisting.
Peter Green has researched the life and military career of Harold Moody, and his findings can be read by selecting the link below;-
-----------------> Return to top of the page