Remembrance - The Yorkshire Regiment, First World War
Captain Lawrence PEEL
Close window to return to main page
---
Select the thumbnail image above for a larger photo which opens in a new window.
---
Captain Lawrence PEEL

2nd Battalion Yorkshire Regiment.
Born at Clitheroe 18 September 1884, 3rd son of William Peel, J P, of Knowlmere Manor, Yorkshire. Husband of the Hon. Mrs. L. Peel (now the Hon. Mrs. Martin, of The Brand, Loughborough, Leicestershire).
2nd Lieutenant 10 October 1903; Lieutenant 18 February 1905; Adjutant 1 December 1906 - 1 March 1910; Captain 11 February 1911.

Killed 23/24 October 1914 whilst leading his cycle company in a night attack near Ypres. Mentioned in Despatches. Aged 30.
Commemorated on Panel 33, YPRES (MENIN GATE) MEMORIAL.
---


Captain Peel in the photo of the Officers of the 2nd Battalion in October 1914.
Select the thumbnail image above for a larger photo which opens in a new window.
---
Captain Peel was educated at Winchester College. The following information on Captain Peel appears on the Winchester College website, winchestercollegeatwar. Suzanne Foster, the College Archivist, has kindly allowed us to use this information. The photo in the title bar is also provided by kind permission of winchestercollegeatwar website.
"Captain Peel was the son of William Peel of Knowlmere Manor, Clitheroe, Yorks. His mother was Meliora Sybella Peel, the daughter of Henry Phillpotts (Com 1819, Coll. 1820). He was one of four brothers, all of whom were Wykehamists. He entered the School from Horris Hill, became a House Prefect and in his last year played for O.T.H. VI.
From Winchester he went to Sandhurst and passed out with distinction in 1903, being gazetted to the 2nd Battalion Yorkshire Regiment. He served for several years in India and South Africa and became Adjutant of his battalion in 1907.
At the outbreak of war he was with his regiment in Guernsey and proceeded to the front within a few weeks in command of the Divisional Cyclist Company of the 7th Division. He was reported missing on the night of October 23rd-24th 1914, after an attempt to capture some farm buildings on the Zaanvoorde Ridge near the Ypres-Menin Road.
Cyclist companies began to be formed in the summer of 1914. Their primary task was reconnaissance. However, once trench warfare set in they took on numerous other tasks: manning observation posts, traffic control, sniping, repairing trenches, helping to set up divisional schools – the division's 'odd job men'.
His name was mentioned in one of Lord French's earliest Despatches.
He married in 1912, at St George's, Hanover Square, London, the Hon. Ethel Laura Brooks, daughter of the 2nd Baron Crawshaw. They had a son, Geoffrey who came to Winchester as a War Exhibitioner (H1927-1932)."
---
Margaret Brenchley of the Slaidburn Village Archive (<mabrenchley@btinternet.com>) has forwarded information which relates to the death of Captain Peel. The information is taken from local sources, and forms part of the commemoration of the start of the First World War by the parish of Slaidburn.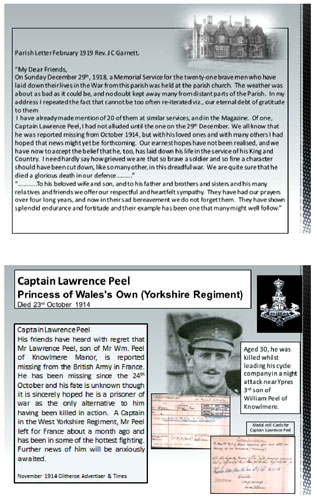 Select the image above for a larger one which opens in a new window.
-----------------> Return to top of the page