Remembrance - The Yorkshire Regiment, First World War
Lieutenant John Selby PRATT
Close window to return to main page
---
Select the thumbnail image above for a larger photo which opens in a new window.
---
Lieutenant John Selby PRATT
Lieutenant John Selby Pratt. Mentioned in Despatches. 10th Battalion Yorkshire Regiment. Son of Charles and Sidney Pratt, of "Marley House," Haslemere, Surrey. Died 11 April 1917. Aged 19.
Buried WANCOURT BRITISH CEMETERY.
---
The following information on Lieutenant John Selby Pratt h has been provided by John Hamblin (<jc.hamblin@btopenworld.com>);-

John Selby Pratt was born in 1897 the younger son of Charles Pratt of Marley House, Haselmere in Surrey, late Senior Government Inspector of Railways in India.
He went to the the Dragon School from 1905 to 1908 where he was a dayboy and in School House. He was a promising athlete and won prizes for Under 10 100 yards in 1906, Cricket ball under 13 in 1907 and also in 1908. He was also in the Cricket 2nd XI in 1908.
In 1908 he went on to Blundell's School and got into the Junior House XI in 1909, was first in the U14 100 yards in 1910 also first in the 220 yards U13 and second in the high jump U14 when only 12 years old. He got his cricket colours in 1912 and his Rugby XV colours in the same year at the age of 15.

Additional information from Mike Sampson, archivist of Blundell's School :
He was in the first XI in 1913, second XV 1913, Hockey XI 1913–14; Gym VIII 1913–14.
He was a Lance Corporal in the School in the OTC from 1909-1914 and went to camp in 1913, Aldershot in 1914, and played in the band.

On the outbreak of war he obtained a commission in the 10th Battalion Yorkshire Regiment at the age of 17. He became a Lieutenant in 1916.

On the 11th of April 1917 he was killed by a sniper at St Martin sur Caquel near Arras as he went ahead of his Company (of which he was in command) with a machine gun to find a gap in the wire entanglement to get his company through. He was 19 years old.

His Commanding Officer wrote:-
"I have lost one of my best and most gallant officers. His action in going forward in the hope of finding a gap was most gallant and showed wonderful devotion to duty. He was very popular with officers and men."
He was mentioned in dispatches by Sir Douglas Haig dated the 9th of April 1917, two days before he was killed.

Lieutenant Pratt is buried at Wancourt British Cemetery Plot VII Row D Grave 33

A photograph of the 10th Battalion Officers taken in 1915 shows Lieutenat Pratt, 4th from the right in the back row. Select the image below for an enlarged version which opens in a new window.
---
Desmond Devitt (<dpdevitt@btinternet.com>) has forwarded a copy of the telegram, sent to Lieutenant Pratt's family, advising them of his death in action. This is shown below;-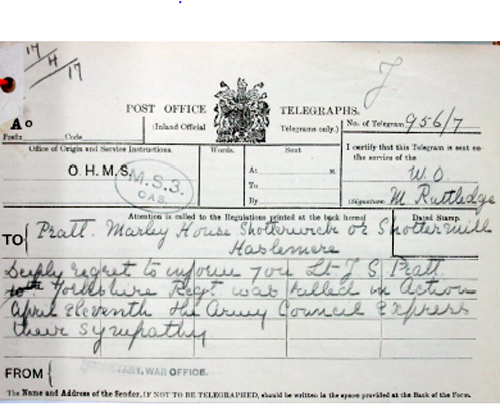 Desmond Devitt has also provided further information on John Selby Pratt, especially with reference to his days at the Dragon School, Oxford. For this, see the website Skipper's War.
-----------------> Return to top of the page