Remembrance - The Yorkshire Regiment, First World War
Serjeant Frank PRESTON.
28241 / 29807
Close window to return to main page
---
Photos and biography provided below.
---
Serjeant Frank PRESTON. 28241 / 29807.

3rd Battalion Yorkshire Regiment. Transferred to the Royal Warwickshire Regiment.

Anne Watson (<annewatson@talk21.com>), grand-daughter of Serjeant Frank Preston has kindly provided photographs of Frank Preston in the 3rd Battalion and also with his wife and two children. She has also provided family information on Frank Preston.
Fortunately, Frank Preston's Service Record survives in the National Archives. Together with the information provided by Anne Watson, we have a fairly full picture now of his career.
---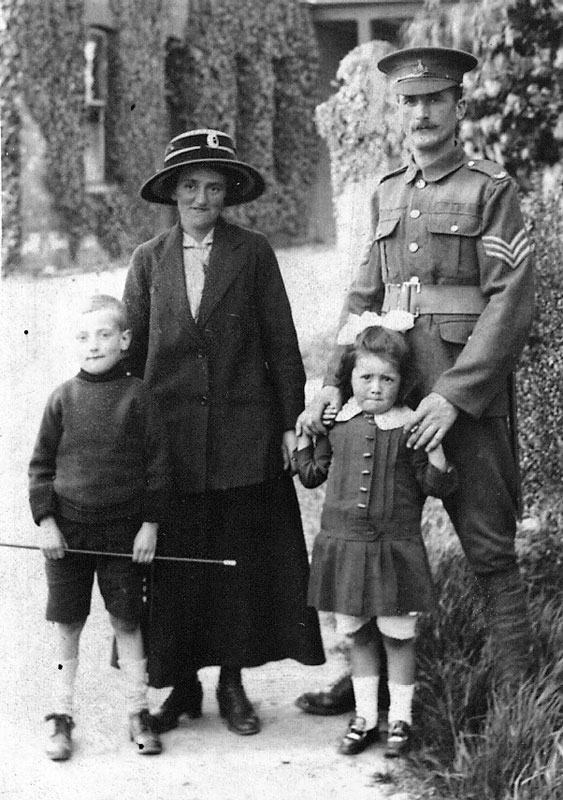 Serjeant Frank Preston, with his wife Florence, son Richard and daughter Alice.
(Photo taken in the early Summer (?) of 1917)
From Serjeant Preston's Service Record;-

Enlisted (in MIddlesbrough) on 9 December 1915. Service No 28241 (Yorkshire Regiment). 3rd Battalion.
Occupation, Shop Manager (clothing shop). Lived in West Street, Middlesbrough.
Wife = Florence Carter (married 12 April 1909).
Two children, Richard (4 October 1910), Alice (6 December 1911).
On Home service, 31 May 1916 - 6 July 1917.
Appointed Acting Sergeant, 20 September 1916.
Posted to France (with the Yorkshire Regiment) 7 July 1917.
Reverted to Corporal on being posted overseas.
Transferred to the Royal Warwicks, 2nd/5th Battalion, 21 July 1917.
Promoted Sergeant 28 August 1917.
Wounded in action, 6 September 1917 (I can't make out any details).
Discharged as unfit for further military service, 9 September 1918.
(Awarded a Silver War Badge, - which denoted that he had been discharged).
Anne Watson, his grand-daughter provides the following additional information;-
Frank Preston, born 27 Sep 1886 in Middlesbrough.
He was wounded, spending the rest of his life with an unbending left leg, 2 inches shorter than the right.
Shortly before his death in 1965 he told me that when he was wounded he was trapped in a pile of bodies
for possibly 2 days before being taken out to a field hospital.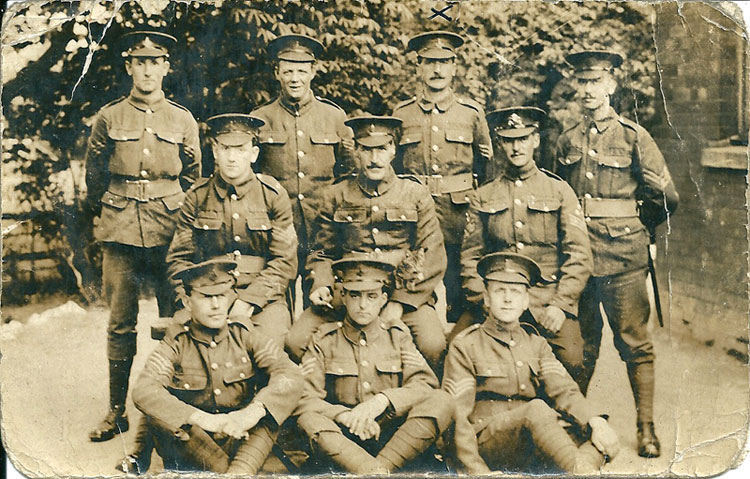 Serjeant Preston (back row, 2nd right) with a group of fellow Serjeants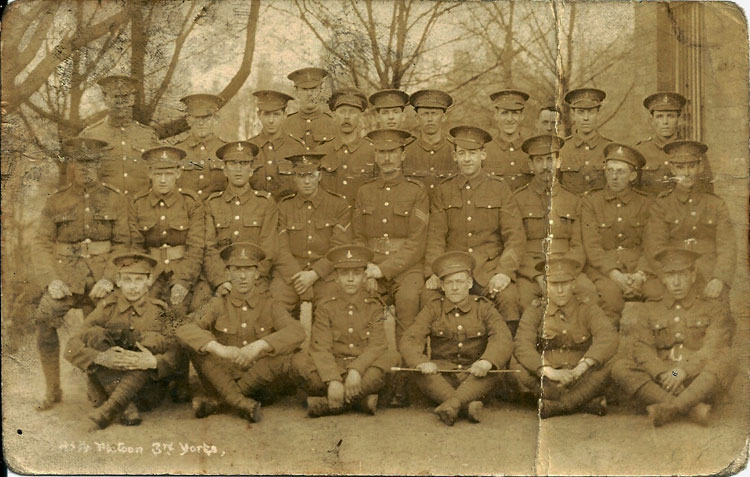 Serjeant Preston (centre) with a platoon of the 3rd Battalion, early 1917.

-----------------> Return to top of the page