Remembrance - The Yorkshire Regiment, First World War
2nd Lieutenant Ewart RICHARDSON
Close window to return to main page
---
Select the thumbnail photo, above, for a larger sized portrait which opens in a new window
---
2nd Lieutenant Ewart RICHARDSON

4th Battalion Yorkshire Regiment (Territorial). Son of T. H. and M. Richardson, of Brynteg, Middlesbrough. Killed on 27 September 1916. Aged 34.
Commemorated Pier and Face 3 A and 3 D, THIEPVAL MEMORIAL.
From Robert Coulson's biographies of Officers of the Yorkshire Regiment;-
"Born in Middlesbrough in 1882 Ewart Richardson followed a legal career and was admitted to the bar in 1904. He was a practising solicitor in Middlesbrough and joined the Yorkshire Regiment in July of 1915.
2nd Lt Richardson joined the 4th Battalion on May 26th 1916 at Locre in Belgium.
The battalion moved down to join the Somme offensive in August where they went into training at Millencourt.
On September 15th 2nd Lt Richardson and the battalion attacked between High Wood and Martinpuich. After a brief respite from the front line they went back into action on September 25th in operations around Eaucourt L'Abbaye and it was during this action that 2nd Lt Ewart Richardson was killed on September 27th 1916 aged 35."
Owen Davidson (owendvdsn) has kindly given permission for the photo of Ewart Richardson to be reused.
On the Find a Grave website Dimitrios Corcodilos has provided a photo of Ewart Richardson's parents, Thomas Henry and Marietta Richardson. Thomas Henry and Marietta are buried in Marton (St. Cuthbert) Churchyard, and their headstone includes a commemoration of their son.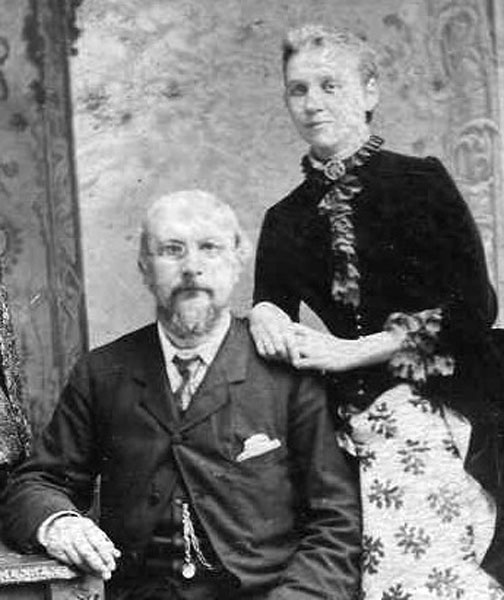 ---
-----------------> Return to top of the page