Remembrance - The Yorkshire Regiment, First World War
Lance Corporal John RODDAM. 61722
Close window to return to main page
---
Photos and biographical information below.
---
Lance Corporal John RODDAM. 61722. 4th Battalion Yorkshire Regiment.

The following biographical notes are supplied by his grandson, John Roddam (<john.roddam@btinternet.com>).

Born 1893, died 1960. He lived all his life in Edmondsley Co. Durham.
John Roddam joined the 4th Battalion in December 1915, and was discharged in December 1918.
Although shown as being a Lance Corporal only a couple of weeks before being discharged, his discharge papers show him as being a Private.
He served in Ireland during the First World War.
He used to say jokingly that "being in Ireland was worse than being in France because at least in France you knew the Germans were coming from in front of you".
The dates of his service in Ireland are not known at this stage, though he talked of "shooting in the streets" whilst in Ireland.

He was a coal miner and although not tall was incredibly strong. This made him a great favourite among the officers who used to play "piggy back fights" riding on the backs of their men. He would never allow himself and "rider" to be pulled or pushed over and wouldn't let his officer be unseated.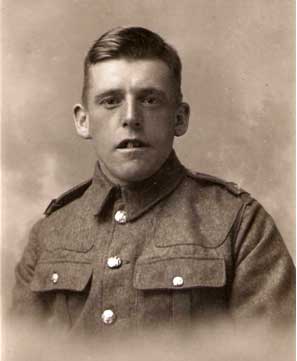 Lance Corporal John Roddam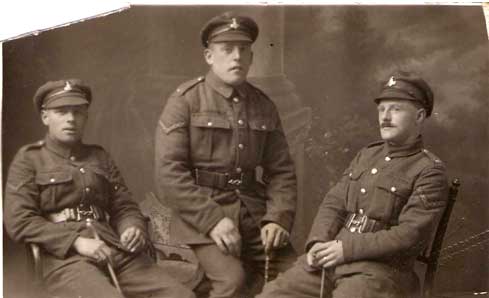 Lance Corporals Jack Davison, John Roddam, and Henry Bewick Stobert
J. (Jack) Davison John (Jack) Roddam Henry Bewick Stobert
Horden Edmondsley Ponteland
Co. Durham Co. Durham Northumberland
Jack Davison (from Horden, Co. Durham) remained a life long friend of John Roddam.
Henry (H.B.) Stobert lost a brother, James, in 1916 (Kings Royal Regiment of Rifles).
On the back of this photo is written, in pencil, " With love from your true and loving husband Jack (The Terable [sic] Three)"
-----------------> Return to top of the page