Remembrance - The Yorkshire Regiment, First World War
Private John Wilson SEDMAN. 2677
Close window to return to main page
---
Select the thumbnail image above for a larger photo which opens in a new window.
---
Private John Wilson SEDMAN. 2677.

5th Battalion Yorkshire Regiment. Son of Thomas and Mrs A. Sedman. Died 2 June 1917. Aged 20.
Born Malton, Enlisted Malton, Resided Malton.
Commemorated on the BROOKWOOD 1914 - 1918 MEMORIAL and buried in NEW MALTON CEMETERY.

Private Sedman lived with his parents at 82 Old Maltongate in Malton. He enlisted in the 5th Battalion on 3 November 1914, and served at home until 29 September 1916.
He was discharged as being unfit for further service, suffering from tuberculosis.
He was discharged to Pension, and died at home on 2 June 1917.

The photo of John Sedman is one of the photos in Elizabeth Graham's Family Tree as shown on Ancestry.co.uk.
The addition of Private Sedman's name to the Brookwood Memorial is described in an article published in the Northern Echo on Wednesday 26 Oct 2016, - see below. Data on John Wilson Sedman is shown in Elizabeth Graham's Family Tree on Ancestry.co.uk.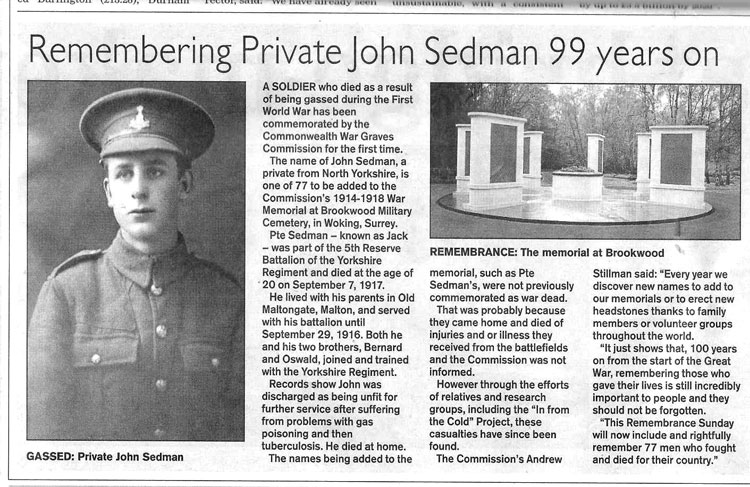 -----------------> Return to top of the page