Remembrance - The Yorkshire Regiment, First World War
Captain Clifford Sandford SIMPSON
Close window to return to main page
---
A biography from De Ruvigny's Roll of Honour, which includes the above thumnail photo, is shown below.
---
Captain Clifford Sandford SIMPSON.
8th Battalion Yorkshire Regiment. Killed 10 July 1916.
Buried BECOURT MILITARY CEMETERY.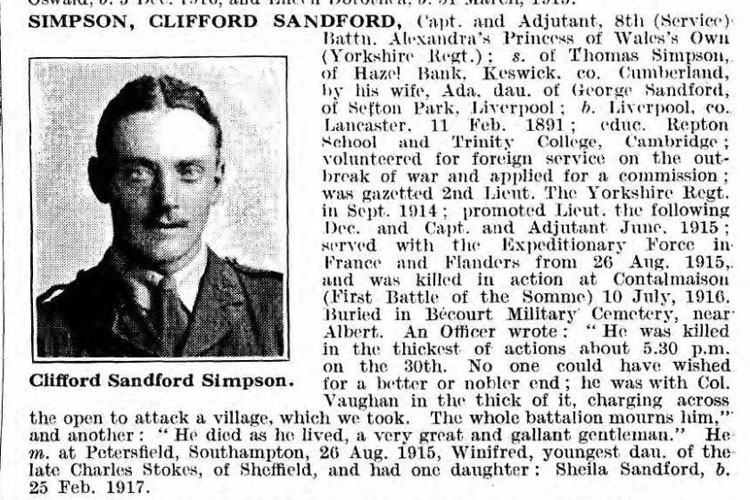 Robert Coulson has provided further biographical details of Captain Clifford Sandford Simpson in his Biographies of Officers of the Yorkshire Regiment;-
"Clifford Simpson was born in Liverpool on February 11th 1891 and was educated at Repton School where he joined the Officer Training Corps followed by Trinity College at Cambridge which he entered in 1910.
At the onset of war he applied for a commission and was gazetted as a 2nd Lt with the 8th Battalion in September 1914 and received promotion to Lieutenant in December.
In August 1915 he married his fiancée Winifred Stokes at Petersfield in Southampton and on the 26th of the month sailed with the 8th Battalion from Folkestone to Boulogne.
By now a Captain and Adjutant to the battalion Clifford Simpson spent the remaining months of 1915 in the Bois Grenier sector to the south of Armentieres.
In June 1916 the battalion moved to Longeau near Amiens to prepare for the Somme offensive and on July 5th the battalion were in action in the attack on Horseshoe Trench.
On July 10th the battalion attacked the village of Contalmaison from the direction of Baillif Wood, the advance going in at 4.50 p.m.
Captain Clifford Sandford Simpson was killed in this action at Contalmaison on July 10th 1916 at the age of 25.

A brother officer wrote later,
"He was killed in the thickest of actions at about 5-30pm. Nobody could have wished for a better or more noble end. He was with Col Vaughan in the thick of it charging across the open to attack the village. The whole battalion mourns him".
Another wrote,
"He died as he lived a very great and gallant gentleman".
Captain Simpson was the son of Thomas and Ada Simpson of Keswick in Cumbria.

-----------------> Return to top of the page