Remembrance - The Yorkshire Regiment, First World War
Captain Charles SPROXTON, MC.
Close window to return to main page
---
Select the thumbnail image above for a larger sized portrait which opens in a new window.
---
Captain Charles SPROXTON, MC

Captain Charles Sproxton (Adjutant), MC. 4th Battalion Yorkshire Regiment. Son of Arthur and Alice Sproxton, of 114, Lee St., Holderness Rd., Hull. B.A. (Hons. Cambridge). Killed 19 June 1917. Aged 26.
Buried ST. MARTIN CALVAIRE BRITISH CEMETERY, ST. MARTIN-SUR-COJEUL.
David Sproxton (<David.Sproxton@aardman.com>), a great nephew of Charles Sproxton has produced a video which commemorates his great uncle,
https://vimeo.com/230017740
This video provides further information of Charles Sproxton, together with photographs.

The following are notes from Dr. Leedham-Green from data in the Cambridge University, Peterhouse College, archives;-
"Charles Sproxton. Educated at Boulevard Municipal Secondary School, Hull.
Recommended by F. W. de Valling, B.A., F.C.S., Headmaster.
Admitted to Peterhouse August 1909 (County Council Scholarship, East Riding): commenced residence, 1 Oct. 1909.
B.A. (1st class in the part I of the History Tripos, 1911, and in part II, 1912) 1912.
History Exhibitioner 1909, and Scholar 4 Nov. 1911. Gladstone Memorial Prize, 1911. Hugo de Balsham Student, 1912.
Elected Fellow, 29 Oct. 1914.
Capt. Yorkshire Regiment (T.F.). Wounded twice. Military Cross. Mentioned in dispatches.
Killed in action, 19 July 1917.
Letters from him and about him in the correspondence of Alfred George Alwin Heinrich Bossier at Peterhouse, see http://janus.lib.cam.ac.uk/db/node.xsp?id=EAD%2FGBR%2F0273%2FBOSSIER "
---
Below are two photos of Charles Sproxton with fellow cadets in the Cambridge University OTC on Farnborough Common in 1912. Both photos from David Sproxton.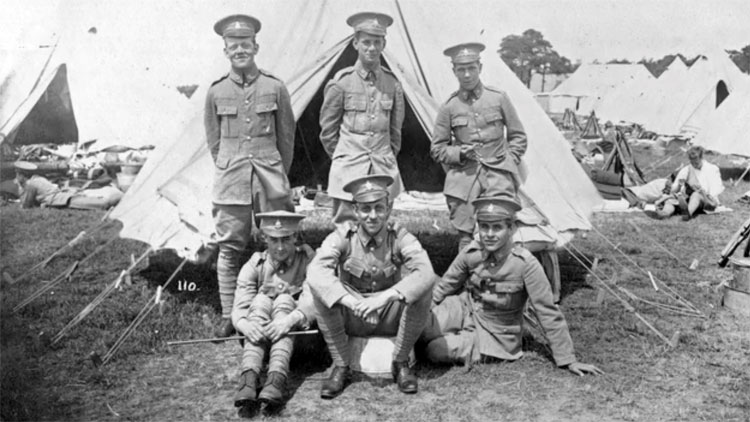 -----------------> Return to top of the page