Remembrance - The Yorkshire Regiment, First World War
Private Louis Turgis TRACY. 4700.
Close window to return to main page
---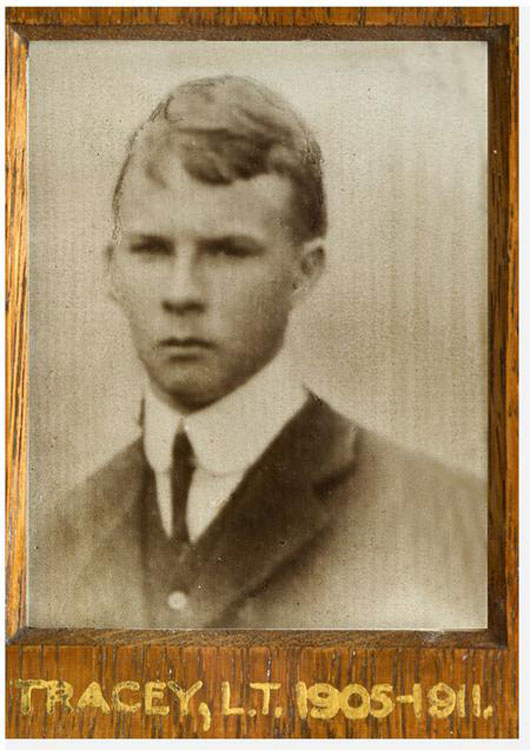 Photo from the Wilson House, Epsom College, War Memorial
Photo : Imperial War Museum Lives of the First World War
---
Private Louis Turgis TRACY, 4700.
1st/4th Battalion Seaforth Highlanders. Son of Louis and Amy Tracy, of Whitby, Yorks. Joined 5th Battalion. Yorkshire Regt., 8th Sept., 1914. Died 3 June 1916. Aged 21.
Buried LOUEZ MILITARY CEMETERY, DUISANS.
Remarks;-
On Private Tracy's CWGC headstone is inscribed "BORN BRIGHTON FEB. 11TH 1895 JOINED YORKSHIRE REGIMENT SEPT. 8TH 1914."
Louis Tracy started his military service as a 2nd Lieutenant in the Yorkshire Regiment's 5th Battalion (qualifying for the 1914 Star). He was posted to France on 17 July 1915 in a group of Officers sent out as reinforcements, arriving near Armentieres. However, on 5 December 1915 he is reported in the London Gazette as having resigned his commission. At this stage, no reason for this is known, but it is possible that this resulted from some incident when serving with the batallion at Armentieres (the battalion was in billets there until 12 November).
At this stage, the only other facts known as regards Louis Turgis Tracy are that 1) he was a boarder at Epsom Collage, and 2) he was a student at Hertford College, University of Oxford.
His father, Louis Tracy, seems to have led a fairly complicated life. He had served with the 1st Volunteer Battalion of the Yorkshire Regiment at some point in the late 19th Century, and was a prolific writer of fiction.
-----------------> Return to top of the page