Remembrance - The Yorkshire Regiment, First World War
2nd Lieut William Andrew TURNBULL
Close window to return to main page

Lieut William Andrew TURNBULL
---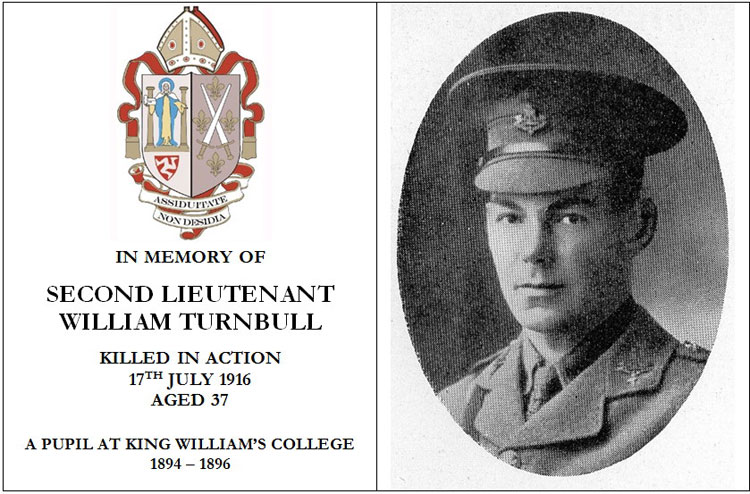 Photo : Mary Ann Turnbull (<turnbull6550@gmail.com>)
---
2nd Lieutenant William Andrew TURNBULL.
5th Battalion Yorkshire Regiment. Son of Henry and Fanny Turnbull, of 13, Grosvenor Rd., Scarborough. Killed 17 July 1916. Aged 37.
Buried LA LAITERIE MILITARY CEMETERY.

Robert Coulson provided the following biographical information on Lieutenant Turnbull in his "Biographies of Officers of the Yorkshire Regiment";-
"William Andrew Turnbull was born in Scarborough in Q4 1878.
He went on to study law, was admitted to the bar in May of 1902 and prior to the war was working for the family firm of Turnbull & Sons in Scarborough.
William Turnbull enlisted as a private soldier with the 5th Yorkshires and then received his commission rejoining the battalion in May 1915 in trenches at Sanctuary Wood close to Ypres.
During the great German gas attack that fell on the battalion on Whit Monday 1915 at Hooge on the Menin Road, 2nd Lt Turnbull was wounded in action. The battalion remained in the Ypres Salient through the remainder of 1915 and in early 1916 saw action at Hill 60 and The Bluff to the south east of Ypres.
2nd Lt Turnbull and the battalion then moved to Eecke near Bailleul and then on to Locre were they manned the line close to Kemmel.
It was in these trenches that 2nd Lt William Andrew Turnbull was killed by shellfire on July 17th 1916 at the age of 37."
-----------------> Return to top of the page