Remembrance - The Yorkshire Regiment, First World War
Lieutenant Frank Brenand WHITEHEAD

Close window to return to main page
---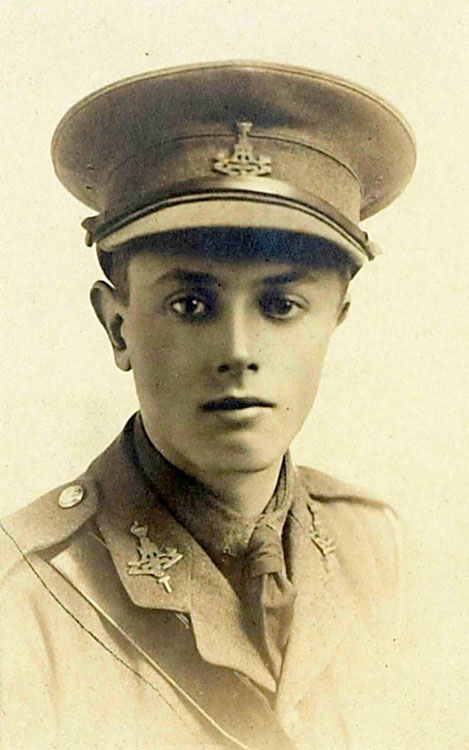 Photo courtesy of Mrs Beverely Matthews (<Beverley.Matthews@tonbridge-school.org>) the Tonbridge School Archivist.
A website set up by Tonbridge School includes this photo in a Book of Remembrance, together with other biographical details.
---
Lieutenant Frank Brenand WHITEHEAD

5th Battalion Yorkshire Regiment. Killed 23 April 1917. Aged 19.
Commemorated on Bay 5, ARRAS MEMORIAL.

The following biographical details are provided in the Kingston Grammar School archives;-
Frank Brennand Whitehead was born on the 1st September 1897, son of Captain Frank Preston Whitehead, master mariner, and his wife Mary.
Frank's admission record shows that his father captained a South African liner. His mother was a British subject but born in Mossel Bay, South Africa.
Frank Whitehead was baptised at St. Luke's, Kingston on 14 January 1898.
He attended Kingston Grammar School from 1907- 1908, before moving to a private preparatory school in Surbiton, Surrey. He then followed his elder brother Edwin to Tonbridge School in Kent.
Frank Brenand Whitehead was at Tonbridge School from 1912 - 1915. In the biographical details of F B Whitehead provided on the Tonbridge School website it is said that he entered Tonbridge School from Elm House School, Surbiton.

The following biographical details are provided in Robert Coulson's Biographies of Officers Killed in the First World War;-
"Frank Whitehead attended London University where he was a member of the Officer Training Corps.
He joined with the 5th Battalion in the summer of 1916 on the Somme and saw action in September in attacks between High Wood and Martinpuich.
Lt Whitehead was wounded in action in November of 1916 at Mametz Wood and was invalided home to recuperate. He rejoined the battalion in March 1917 at Bayonvillers and in early April they moved into corps reserve close to Arras.
On April 23rd the battalion were brought forward to Nepal Trench at 4.45 a.m. and used to meet a developing German counter attack.
Lt Frank Brennand Whitehead was killed in this action during the Battle of Arras on April 23rd 1917.

Lt Whitehead was the son of Mr and Mrs F Whitehead of Southgate in north London."
--------------> Return to Top of Page