Remembrance - The Yorkshire Regiment, First World War
Private Wilfred Robinson WHITFIELD. 201117.

Close window to return to main page
---
Larger sized photos are sown below.
---
Private Wilfred Robinson WHITFIELD, 201117.

4th Battalion Yorkshire Regiment.
Enlisted 7 May 1915. Wounded November 1916. Discharged 21 December 1917.
(Original Service Number was 3838, changed to 201117 on 1 March 1917 as part of renumbering of Territorial battalions.)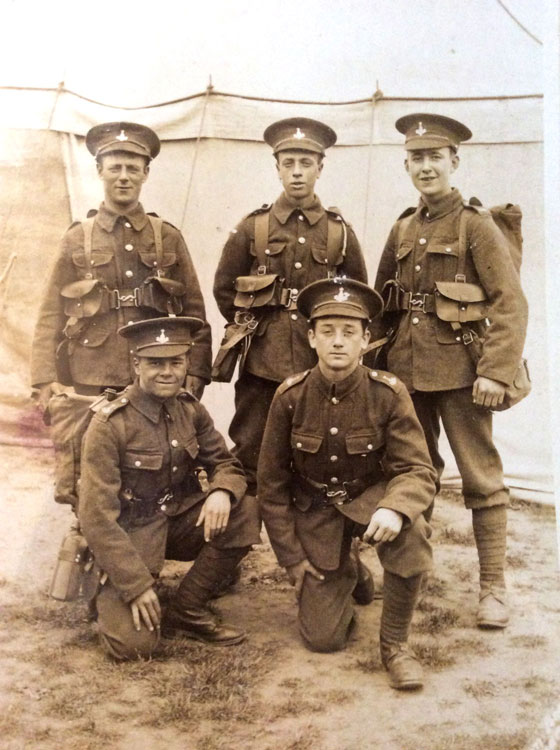 Wilfred Robinson Whitfield, lower left.
The story of Wilfred Robinson Whitfield is described in fuller detail in "The Green Howard", Issue 21, Autumn 2016.
Wilfred Robinson Whitfield enlisted in the 4th Battalion in March 1915, having previously tried to enlist several times but being rejected on account of his size (just 5ft 2 inches tall).
He first fought with the battalion in March 1916, and was involved in fighting at the Battle of the Somme.
In November 1916 he was severely wounded in fighting, losing his left arm.
He was discharged from the Army on 21 December 1917.
Although he returned to work as a Draughtsman, he was sacked (together with other amputee veterans on the same day) in 1923. This was the start of a long battle to fight for better conditons for his fellow jobless war wounded.
Wilfred was instrumental in setting up the Teesside branch of BLESMA, the Armed Forces Charity for limbless and sightless veterans.
Wilfred kept a diary of both his war service and his efforts to improve conditions for veterans after the war.
His grandchildren have published these diaries, and a link to where copies may be purchased is given below.
Wilfred died in 1958, aged 62.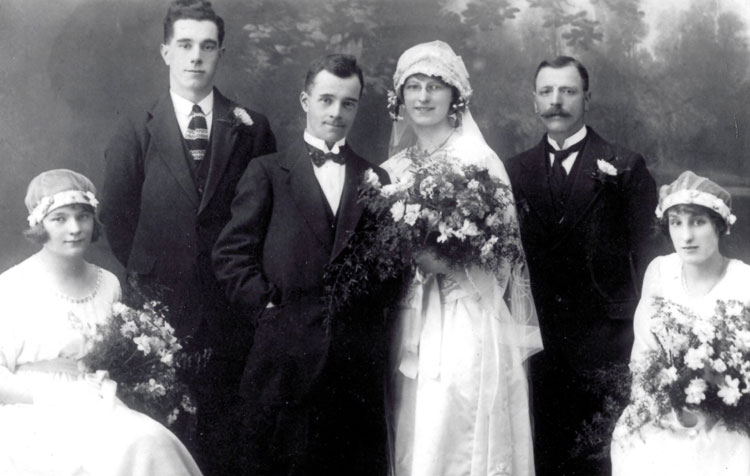 Wilfred Whitfield and his Wife Elsie at their Marriage in June 1932.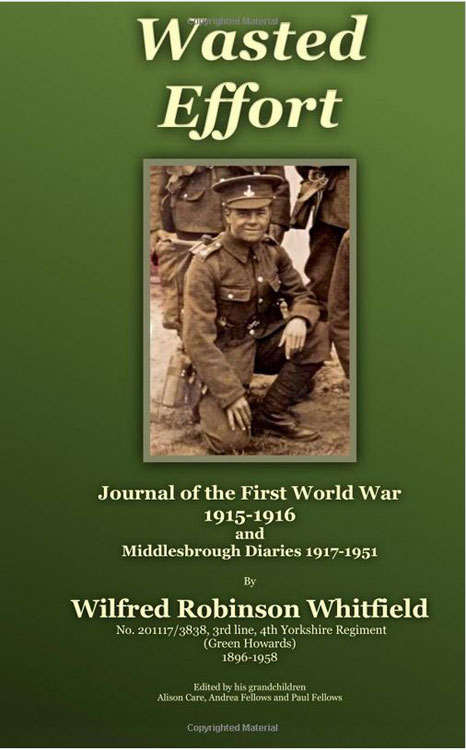 The Diaries of Wilfred Whitfield, published by Amazon
--------------> Return to Top of Page