Remembrance - The Yorkshire Regiment, First World War
Captain William Thomas WILKINSON
Close window to return to main page
---
Select the thumbnail image above for a larger photo which opens in a new window.
---
Captain William Thomas WILKINSON

9th Battalion Yorkshire Regiment.
Son of John R. and Jane Wilkinson, of Sidney, British Columbia, Canada. Native of Hampstead, London, England. Served with Artists' Rifles 1909-11. Enlisted in Public Schools Bn. Aug., 1914. Commissioned Sept., 1914.
Killed 5 July 1916. Aged 29.
Buried BECOURT MILITARY CEMETERY, BECORDEL-BECOURT.

The photo of Captain Williamson has been sent by Amanda Forbis (<forbis@shaw.ca>), a great niece, to whom we are very grateful.
---
John Hamblin (<jc.hamblin@btopenworld.com>) has forwarded a photo of Captain Wilkinson in the uniform of the Yorkshire Regiment, together with bibliographical information on Captain Wilkinson. We are very grateful for the photo and the information.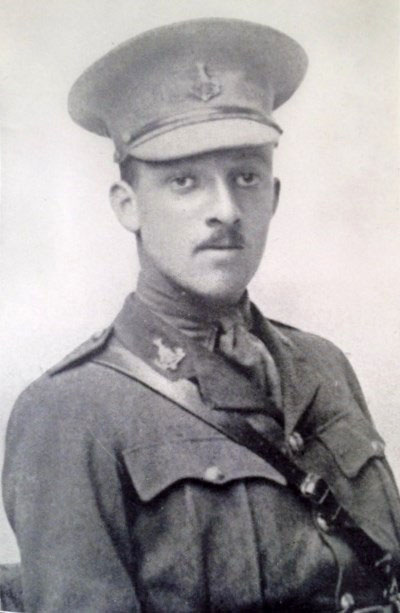 Captain William Thomas WILKINSON
C Company, 9th (Service) Battalion Yorkshire Regiment (Green Howards).
Killed in action on the 5th of July 1916 aged 29.
William Thomas Wilkinson was born at St. John's, Hampstead on the 6th of November 1886 the fifth son of John R Wilkinson, a tailor, and Jane Wilkinson of 4 Agate Road, Clacton-on-Sea in Essex, later of Sidney in British Columbia.
He was educated at University College School, Hampstead from 1900 to 1902 where he was a keen member of the Officer Training Corps.
He worked for Thomas Stephenson & Company Ltd, Lloyd's brokers and lived at Countess Gardens, Henley-on-Thames. He served as a Private with the 28th (County of London) Battalion (Artist's Rifles) from 1909 to 1912.
Following the outbreak of war he enlisted as a Private in a Public Schools Battalion of the Royal Fusiliers in August 1914. He applied for a commission on the 28th of August and was commissioned as a 2nd Lieutenant in the 9th Battalion Yorkshire Regiment on the 22nd of September 1914.
He embarked for France with his battalion at Folkestone on the 26th of August 1915 and landed at Le Havre in the early hours of the following day. For the remainder of 1915 and the early part of 1916 the battalion served in the Bois Grenier sector to the south of Armentieres. In March 1916 they moved to the Souchez River sector and then to the area around Angres until June when they moved to the Somme.
On the 5th of July 1916 the 9th Battalion Yorkshire Regiment was in support of an attack by its Brigade on the German held position of Horseshoe Trench near Contalmaison on the Somme. As the attack by the leading battalions had progressed better than expected, a further attack which had been planned for the 8th and 9th Battalions Yorkshire Regiment was cancelled.
Instead it was decided that the 9th Battalion would attack on its own at 6pm. As soon as they left their trenches they came under a heavy fire and William Wilkinson, commanding C Company, was killed shortly after leaving the trench. The battalion pressed on and captured Horseshoe Trench, capturing 146 prisoners and two machine guns. During this attack 2nd Lieutenant Donald Simpson Bell was awarded the Victoria Cross for destroying an enemy machine gun post and thus enabling the battalion to reach and capture its objective.
Captain Wilkinson's brother John received the following telegram dated the 10th of July 1916:-
"Deeply regret to inform you that Capt. W.T. Wilkinson Yorkshire Regiment was killed in action 5th July. The Army Council express their regret."
He is commemorated on the war memorial at University College School and on the memorial at Lloyd's of London.
-----------------> Return to top of the page