Yorkshire Regiment War Graves, -
St. Hilaire Cemetery, Frevent
( Pas de Calais, France)
---
Close Window to return to main page
---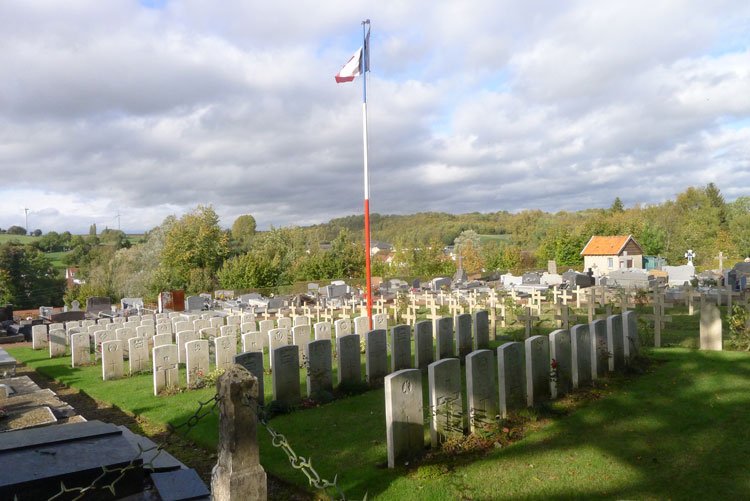 St. Hilaire Cemetery, Frevent (1)
Photo : Chris Weekes (<weebex12@hotmail.com>)
From its position, Frevent was a place of some importance on the lines of communication during the First World War. The 43rd Casualty Clearing Station was posted there from April to June 1916, part of the Lucknow Casualty Clearing Station in June, the 6th Stationary Hospital from June 1916 to the end of August 1918, and the 3rd Canadian, 19th and 43rd Casualty Clearing Stations in the summer of 1918. The great majority of the burials in the cemetery were carried out from these hospitals. St. Hilaire Cemetery Extension was used from March to August 1918 and after the Armistice, one grave of 1915 was brought in from Dennebroeucq.
During the Second World War, the greater part of Frevent was destroyed by bombing. An aerial torpedo fell in the cemetery, which is near the railway line, damaging some of the graves, but the Commonwealth plot was not affected.
The CEMETERY now contains 210 Commonwealth burials of the First World War. There are also 12 Second World War burials, all dating from late May - early June 1940 and the withdrawal of the British Expeditionary Force ahead of the German advance.
Amongst the graves in St. Hilaire Cemetery, Frevent, are 3 for soldiers who served with the Yorkshire Regiment.
We are very grateful to Chris Weekes (<weebex12@hotmail.com>) who has provided photos of the cemetery and a headstone.
Select the thumbnail image, below, for a larger sized image which opens in a new window.
---
Private George Charles Catlin. 260052.
7 th Battalion the Yorkshire Regiment. Son of John Thomas and Minnie Augusta Catlin, of Flitton, Ampthill, Beds. Killed 28 March 1917. Aged 29.
Born Bedford, Enlisted Luton, Resided Fletton (Ampthill).




"FAR AWAY BUT EVER NEAR"




Photo : Claude Laignel of the Find a Grave website

---
Serjeant Charles William Mellor, 15001.
7th Battalion Yorkshire Regiment. Son of William and Louisa Mellor, of 28, South View, Shiney Row, Fence Houses, Co. Durham. Killed 4 October 1917. Aged 23.
Born Houghton-le-Spring, Enlisted Shiney Row.




"HE ANSWERED HIS COUNTRY'S CALL
REST IN PEACE"



Photo : Derek Burgess

---
Private George Percy Rugg. 32357.
2nd (Garr.) Battalion King's Own Yorkshire Light Infantry, formerly 23675 the Yorkshire Regiment. Son of Joseph and Eliza Rugg, of 20, Providence Row, Driffield, Yorks. Died 5 February 1917. Aged 18.
Born Driffield, Enlisted Driffield.




"EVER REMEMBERED"




Photo : Chris Weekes (<weebex12@hotmail.com>)
---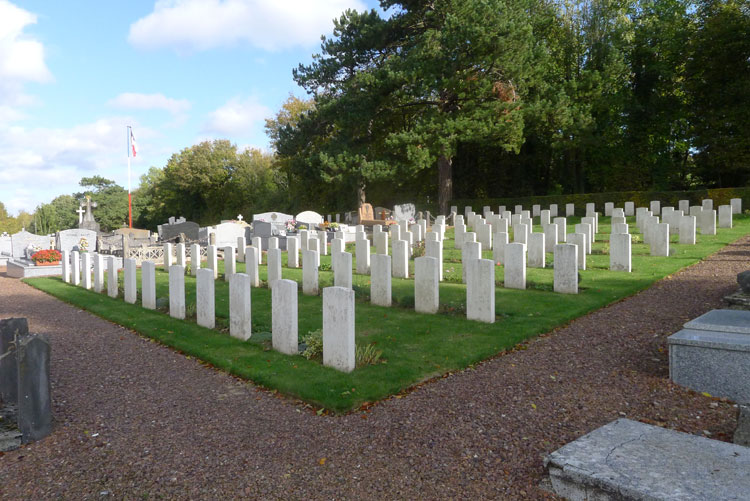 St. Hilaire Cemetery, Frevent (2)
Photo : Chris Weekes (<weebex12@hotmail.com>)