Remembrance - The Yorkshire Regiment, First World War
Colonel Arthur de Salis HADOW

Close window to return to main page
---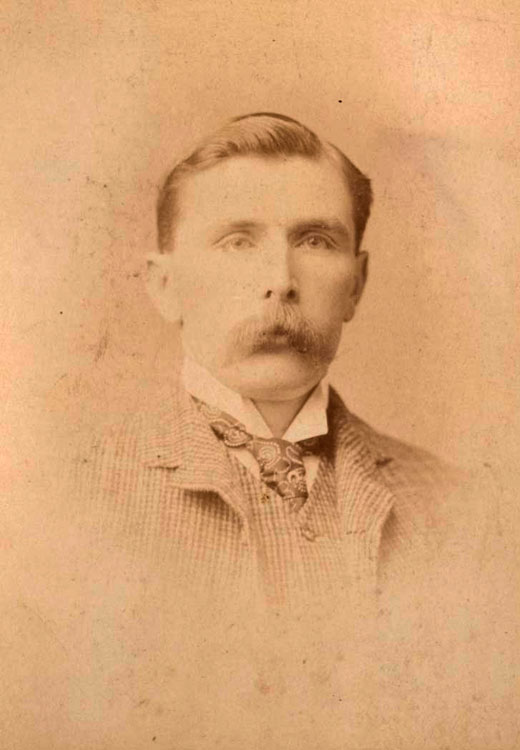 Arthur de Salis Hadow, photographed ca. 1898.
Photo courtesy of the Collections Manager, Green Howards Museum
---
Colonel Arthur de Salis HADOW.

10th Battalion Yorkshire Regiment. Killed 26 September 1915. Aged 57.
Buried LOOS - ST. PATRICK'S CEMETERY.
Born in London, 12 July 1858. Son of Patrick Douglas Hadow, B L, of Sudbury Priory, Middlesex.
2nd Lieut. 4 December 1878. Lieut. 11 October 1879. Captain 8 November 1885. Major 4 December 1896. Lieut.-Col. 29 September 1906. Brevet Colonel 29 September 1909. Retired 29 September 1909.
Served in the Nile Expedition, 1885, and with the Soudan Frontier Force in charge of regimental Camel Corps, 1885-86. Appointed to the command of the 10th Service Battalion, 21 September 1914.
Killed in action at Hill 70, Loos, on 26 September 1915.
Father of Gerald Hadow.

The following biographical details are provided in Robert Coulson's Biographies of Officers Killed in the First World War;-
Arthur Hadow was the son of Patrick Douglas Hadow of Sudbury Priory in Middlesex and was born in London on July 12th 1858.
A career soldier with the Yorkshires he was first commissioned in 1878 and by the time he retired in 1910 had risen to the rank of Colonel and seen service on the Nile Expedition and with the Sudan Frontier Force. At the onset of war he came out of retirement and was appointed to command the 10th Battalion in September of 1914. Colonel Hadow sailed with the battalion to France and landed at Boulogne on September 10th 1915.
They were almost straight away thrust into the Battle of Loos.
On September 25th the battalion passed through Loos after the town had fallen and in the late evening dug in to the east. The following morning the battalion attacked the German lines at Hill 60, the attack going in at 7-30am.
Colonel Hadow was killed in this action on September 26th 1915 at the age of 57 leading his men up the hill.

After his death the Green Howards Gazette wrote,
"The period of his command was one to which the battalion can look back on with pride. No one more strongly fostered the esprit de corps which has ever been characteristic of the Green Howards and no one more thoroughly carried out the precepts which he enjoined".
---
A photo of the 10th Battalion Yorkshire Regiment in August 1915, Colonel Hadow centre.
Select the above image for a larger sized one which opens in a nnew window.
Photo : "The Green Howards in the Last War" by Colonel Wylly.

--------------> Return to Top of Page