---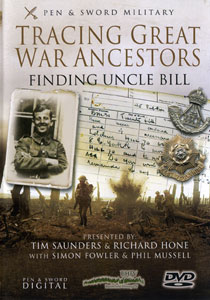 Pen and Sword Books have recently released an excellent CD-ROM, for use on your PC, to help you understand how to set about researching a soldier who fought in the First World War. It is possibly the second part of this CD-ROM that is the most useful, and interesting, for someone embarking on such research.
"Finding Uncle Bill" relates the research into a soldier (William Pye) who first served with the East Yorkshire Regiment. He was hospitalised after contracting trench foot, and was sent home. However, after treatment, he was returned to the Western Front to fight with the Durham Light Infantry.
William Pye was killed almost at the very end of the war, and is commemorated on the Tyne Cot Memorial.
The DVD shows how William Pye's war service can be traced out and followed, using battlefield historian Tim Saunders. The journey takes in both the research source material, to visiting the actual battlefields, to finally visiting both Tyne Cot Cemetery and the Last Post Ceremony at the Menin Gate in Ypres.
Select the image above, or below, to be taken to Pen & Sword's website where you can order a copy of this CD-ROM.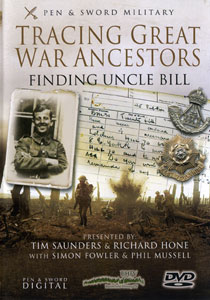 ---
-----------------> Return to top of the page